We couldn't be more delighted to feature Miranda Uechtritz, Founder of Maison Fête et Cie, who helms one of our favorite table décor accounts. Based out of London and Paris, Miranda hand selects treasures from around Europe, listing them on her lovely website for antique enthusiasts to enjoy. She also offers a wide range of event and styling services where she is committed to designing unique experiences that evoke a sense of wonder, and a certain 'je ne sais quoi' only found at Maison Fête. We caught up with Miranda this Fall and talked about the importance of honoring your passion, all things 'art de la table', and what inspires her to create magical tablescapes.
Where did you grow up and how has your past shaped your design aesthetic?
I grew up in the United States, spending most of my time between Southern California and Dallas, Texas where my father formed his ranch real estate company, Icon Global, and my mother worked with some of the top names in the Dallas design and antiques district. I was constantly surrounded by creativity and entrepreneurship not only from my parents, but from my grandmother as well who started her own needlework company, Candamar Designs in La Habra, California in 1970.  I vividly remember running around the offices and warehouse as a child, sifting through baskets of colorful threads and practicing my craftsmanship on the latest design kits. I am fortunate enough to be a part of a large and diversely connected, yet close international family not only in the United States but spread across Europe, Australia and Papua New Guinea, all of whom have had some contribution to who I am and the aesthetic I carry today. After turning eighteen, I moved to Sydney where I spent eight years studying interior design, working in property styling and furniture manufacturing and dabbling in event management, which led me to work in luxury event design in London. That's where I really discovered my true passion and love for the niche of creative table décor.
How would you describe your style?
I like to think of my style as eclectic, yet classic, with a bit of an edge. I like pieces that are unique, carry history and have that perfect balance between feminine and masculine. When it comes to my tables and products, I tend to select pieces that speak to my emotions, rather than transactional decisions. I'm obsessed with anything from the 18th century, as I find the craftsmanship, motifs and colors during this era so enchanting without being kitsch…it's that feminine/masculine balance coming through.
Where do you turn to for inspiration?
France mostly…and more specifically my parents' home in Normandy, originally built in the 17th century. The history, decor as well as the work that my parents continuously put into restoring it not only inspires me creatively, but in business as well. I also draw a lot of inspiration from my products themselves. It's usually one or two pieces that are the main source of inspiration for an entire tablescape.
You recently launched Maison Fête et Cie, a product sourcing and event consulting business filled with wonderful tabletop antiques. What do you love most about what you do?
I love that so many people out there are just as passionate about antique tableware and table décor as I am. One of my missions in starting this business was to encourage people to use their antique tableware pieces daily, and to make every meal an occasion. I love being able to share my passion with so many people across the globe, and to make owning these wonderful pieces accessible with worldwide shipping.
Which decorators from the past do you most often turn to for inspiration?
I am quite a fan of Axel Vervoodt's garden rooms and orangeries. And I love looking back at Janet de Botton's home in Provence, especially the dining spaces. Robert Kime had impeccable taste and a wonderful collection of unique objects.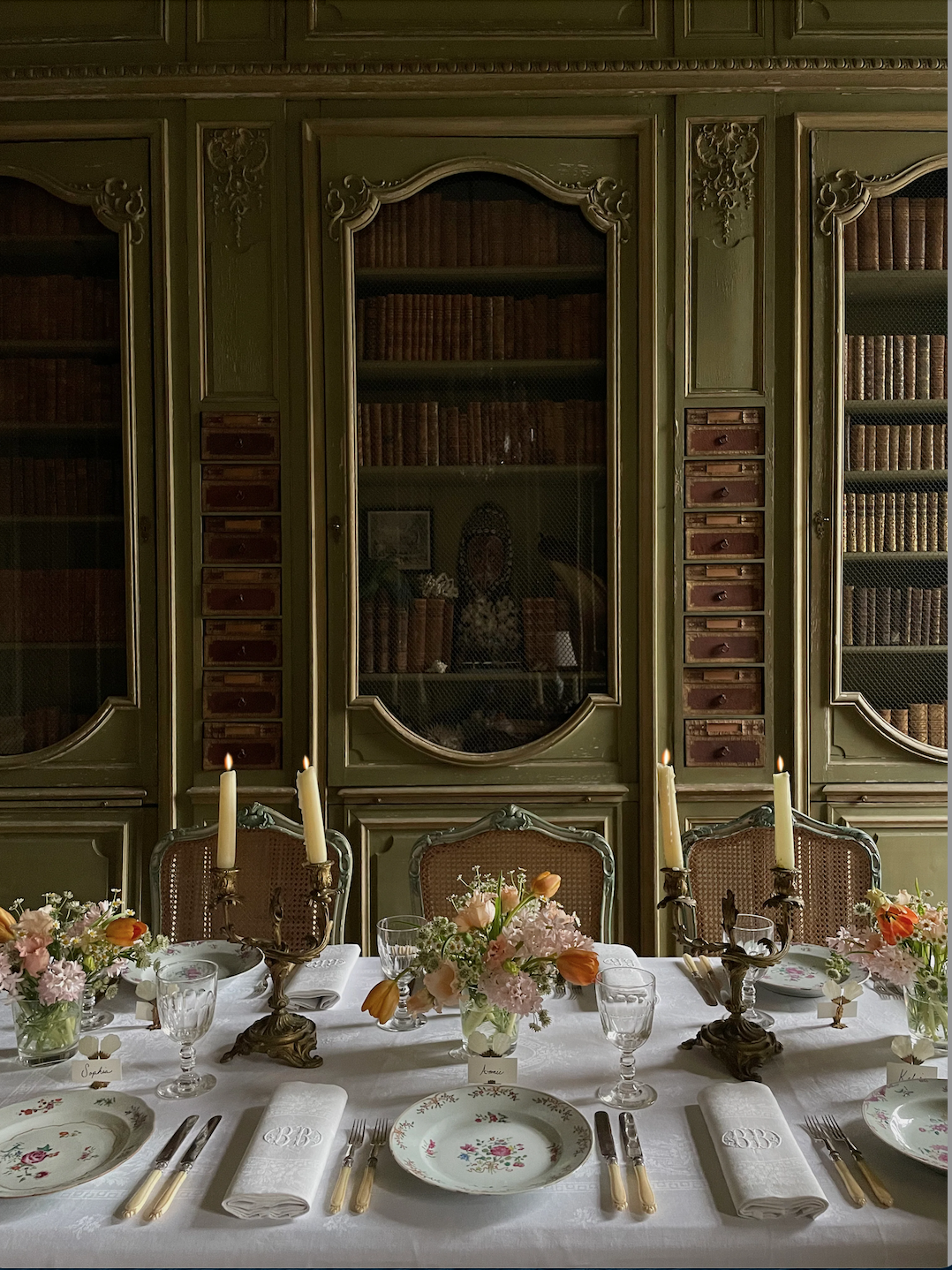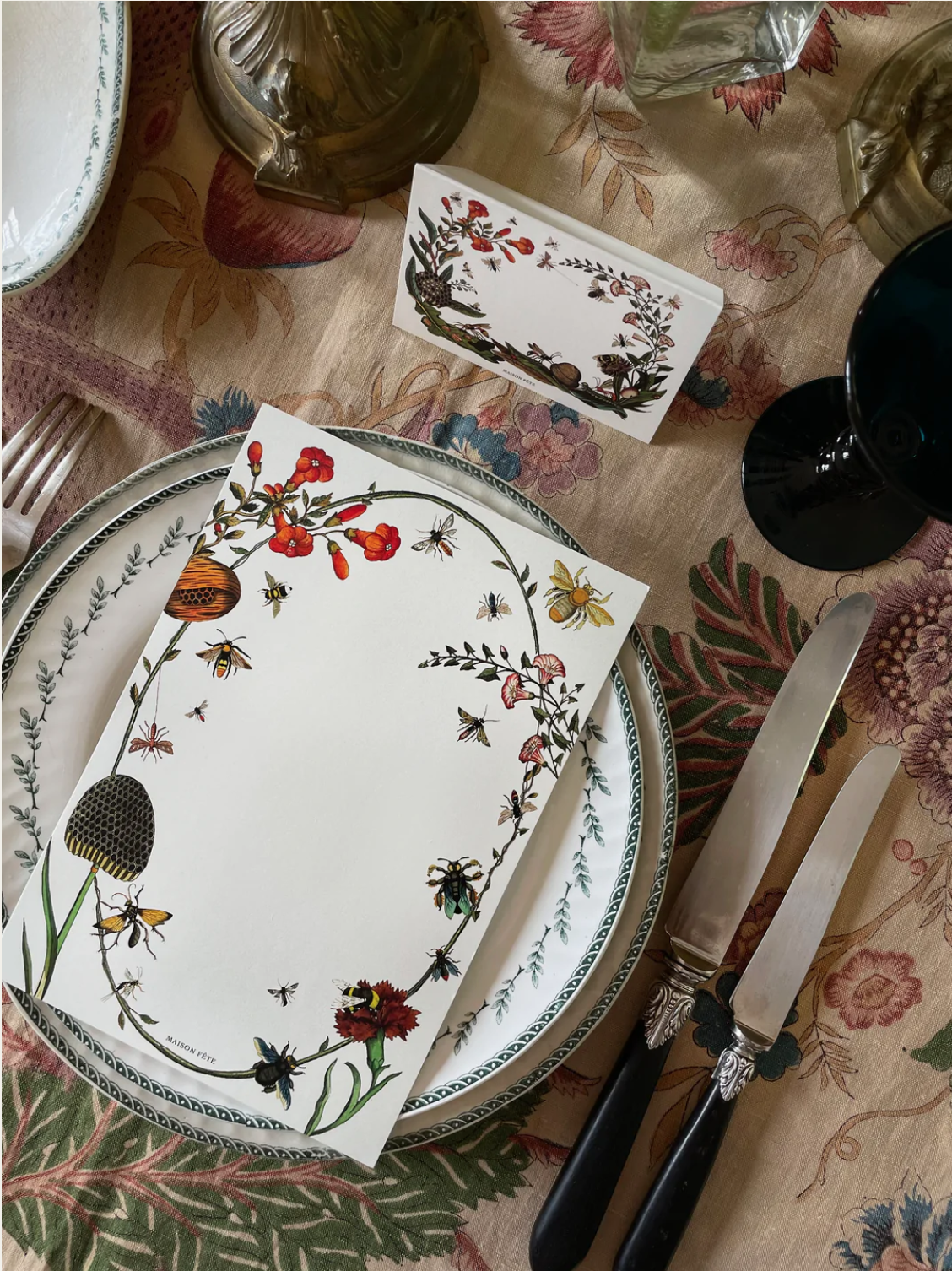 If you could hire any designer from the past to decorate your home, who would it be?
That is a tough one but probably Sir John Soane. He was a well-known English architect in the late 18th century, but his compulsive need to collect curious objects is what I love most about him. I often visit his museum in London and dream of what it would be like to live with all of those beautiful pieces.
Who are some of your style icons?
Jane Birkin, Givenchy (love his tables), Martha Stewart and Marie Antoinette for simply loving a party.
What are some of your indispensable items when entertaining and how do you ensure a memorable dinner party?
The most indispensable item for a dinner table is ambience. Nothing sets the correct tone of an evening better than the right lighting and a bit of music. You want your guests to be able to see each other and their plates, but not be flooded by bright or white overhead lighting. Opt for lamps dotted around the space or a dimmed chandelier and lots of candle light. To make a dinner party memorable you simply make having fun the priority. Don't be too tied down to a schedule, let the night unfold as it may. The best memories at a dinner party happen when your guests are relaxed and comfortable. I also like to make a seating plan with name cards at the top of everyone's plates. This allows your guests to sit next to someone they may not know as well and keep the conversations flowing. Name cards are also a great souvenir for you guests to remember the evening by.
What tabletop items do you invest in, and save on?
Invest in a good set of table linens. You can never go wrong with monogrammed French linen. Also a large dinner service set that you love and can bring out at any occasion. My favorite finds are services de tables where you get a large number of plates and bowls plus a variety of matching serving dishes. It's an elegant touch your guests will love and I find it's always nice to know you are prepared to serve a large number of people if you wish.
Save on flowers and foliage – I use a lot of foraged flowers and foliage from my garden or local parks on my tables. I love how whimsical and natural it feels and it always saves me quite a few pounds.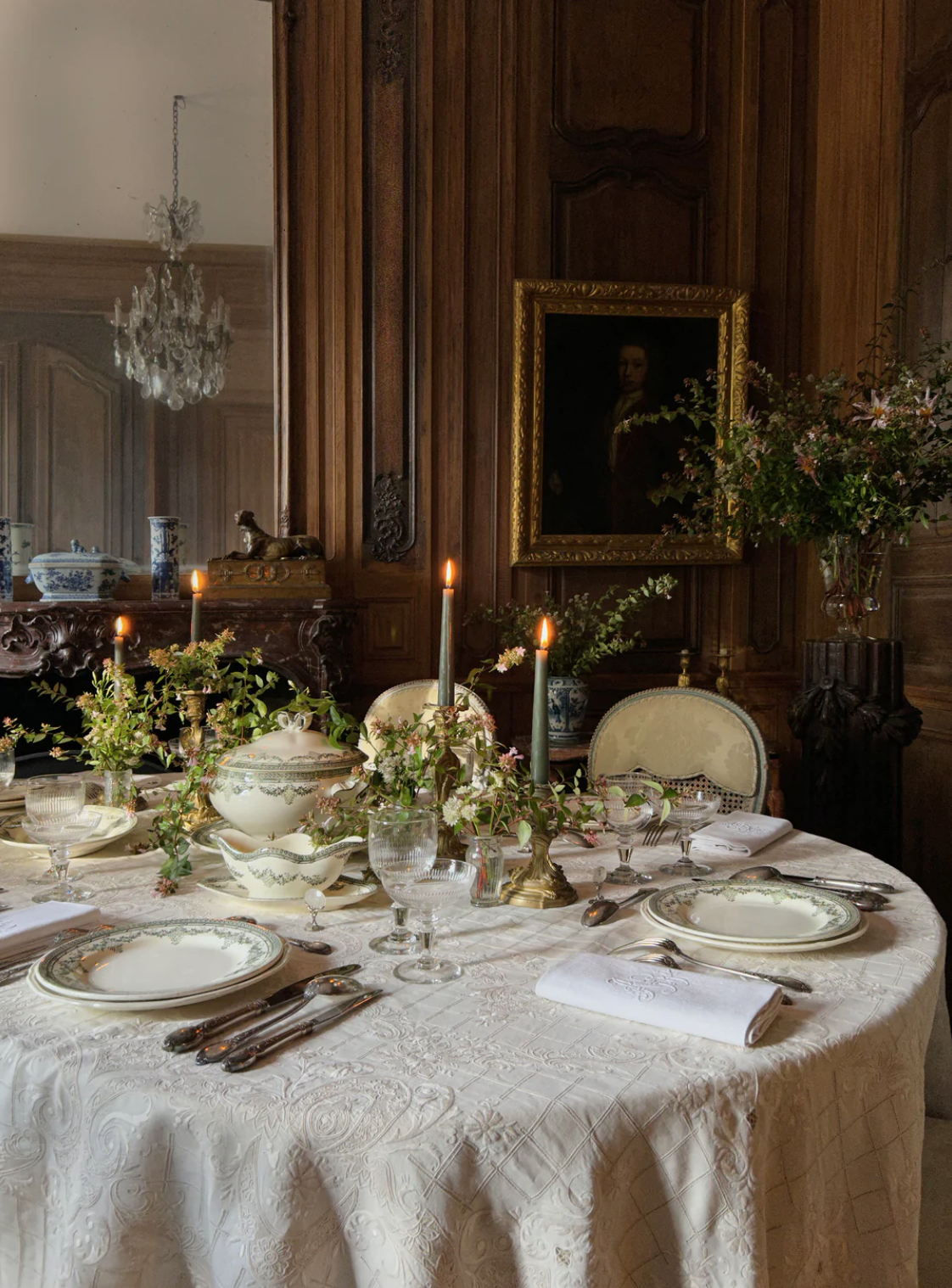 If you could invite any three individuals from the past, who would they be and what would you serve for dinner?
François Vatel, Sally Quinn, and David Bowie. I like to keep it simple and delicious when it comes to the food… a balsamic slow roast lamb shoulder recipe I learned from our family friend Jane Webster, a green bean, feta and roasted pine nut salad, potato dauphinoise and lots of champagne.
What does living beautifully mean to you?
Doing the things you're passionate about in life and creating spaces to let them flourish.
How do you make every day feel special in your home?
I love flowers and use a lot for my tables, so having leftover arrangements around the house always lifts the spirits. I also cook most evenings at home with my partner and sister and we all sit together at the dining table. It may not always be on 18th century plates but it is one part of the day I love, as I imagine it is for most households.
What is your typical morning routine?
Without fail I have a coffee in bed and catch up on my social media work, answering messages and responding to comments. I usually then go for a walk in Hyde Park or drive to whatever antique market is on that day, or to the flower markets to pick up some stems for that day's table arrangements and prep for photoshoots.
How do you like to unwind after a busy day?
By spending quality time with my family, cooking, and of course a glass of wine after a busy week.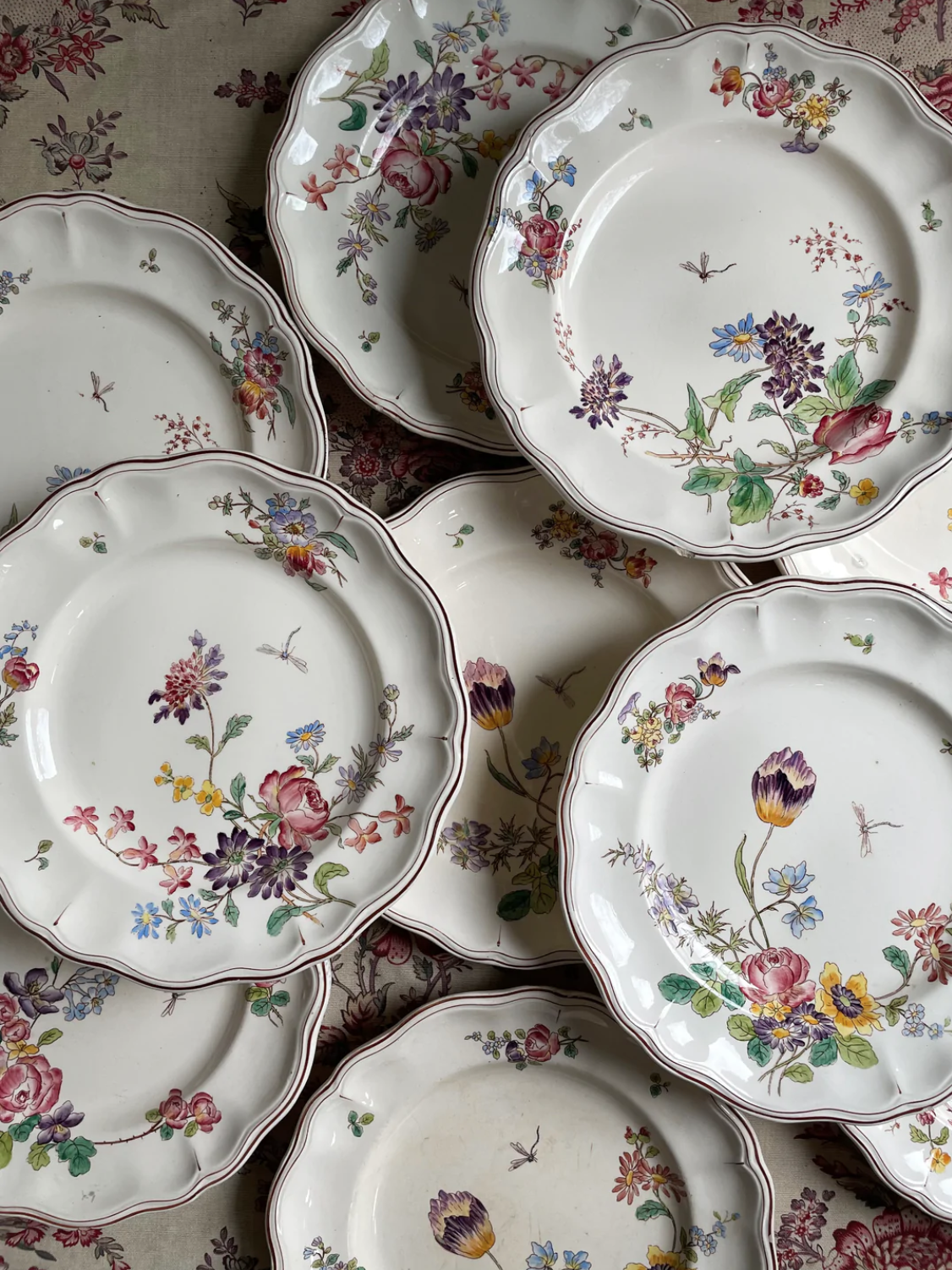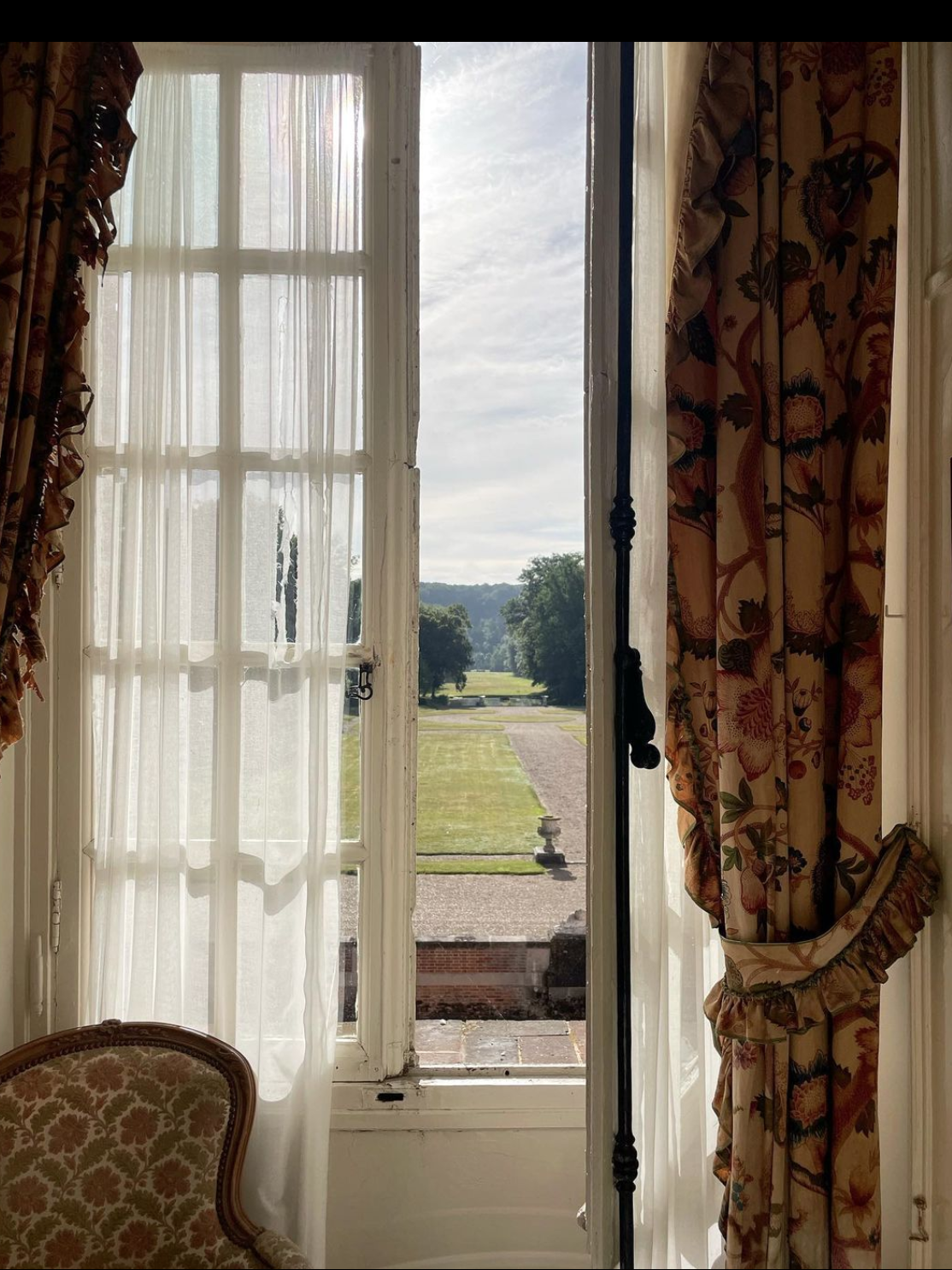 What do you love most about living in London?
I love how accessible it is to travel from London to various places in Europe. Before London I was living in Australia where it is very common to only travel overseas once a year for two to three weeks.  Now I jump across to France once a month by train, have been able to travel to a few new places in Spain and the Netherlands, and can't wait to discover more parts of Europe and find more antique treasures in doing so for my customers.
While traveling, are there any objects you enjoy collecting?
Anything related to tableware or antiques. I recently went to one of my favorite villages in the south of France, Moustier Sainte Marie, the city of faience, and picked up a vase that was hand painted in the traditional 18th century style.
What is at the top of your bucket list?
To visit the antique markets in Belgium. I hear wonderful stories of them and have not yet been!
What are some of the greatest lessons you learned from your parents?
The importance of hard work and that no dream or goal is impossible.
What can we expect to see from Maison Fête in the near future?
A lot more tables and a growing catalog of antiques on the website. I am currently working on all things Christmas and holiday related and have a very exciting magazine cover that should be out by the time this interview is published.
Favorite Travel Destination?
Favorite historic house museum?
Favorite piece of furniture in your home?
An 18th century tapestry I found earlier this year. I've always adored my mother's collection of tapestries, so to be able to purchase one of my own was a big deal.
Favorite tabletop shop(s) in Paris?
Not so much a shop as I mostly find myself in the middle of markets, but if you want to find some treasures for your tables you can't go wrong with Saint Ouen flea market.
Anything with painted flowers and insects, preferably 18th century.
Favorite wallpaper pattern?
Anything in a chintz or moiré fabric.
Favorite interior of all time?
I recently visited the private residence of Château de Louye, and it has the best dining room I've ever seen, not to mention the rest of the home.
Favorite table setting of all time?
It's a tie between a very elegant table set at the National Palace of Ajuda in Lisbon that had silver bowls of fresh cherries and octagonal gilded glassware, or a table by Colefax & Fowler that had individual antique terracotta pots with handles and topiaries lined down the table. Both chic and great in their own ways.
Favorite design book(s) you most often turn to for inspiration?
One book I'll read over and over again is The Party by Sally Quinn. Probably the best "how to throw a dinner party" guide I've come across. It's less technical and more about stories from her personal experiences. I'm on my third or fourth read of it now.
Favorite movie every decor lover should watch at least once?
Since I deal with antiques, I love period films. My mother has introduced me to many over the years but I think my favorites in terms of design would be Pride & Prejudice, Sofia Coppola's Marie Antoinette and I've most recently been watching The Empress that features beautiful locations and interiors including one of my favorite dining spaces at New Bayreuth Palace. Plus, the costumes are incredible.
Favorite family tradition?
Our little family reunion every summer in France where I get to cook and set tables on the terrace.
Favorite piece of advice from your mother?
"The French word for party is fête" – not so much advice, but how I ended up naming my business and the last thing I had to do before starting this incredible journey I'm on.  She opened the floodgates.