Approaching life with an aesthetic eye and a sense of whimsy, Cathy Graham has always taken pleasure in arranging flowers from her garden, whether for herself or for renowned dinner parties. As an award winning illustrator, author and floral designer (having worked with the late floral designer and event planner; Robert Isabell for over a decade), Cathy's sense of beauty is deliberately off-hand, allowing her to scatter the miniature replicas she has been collecting for decades in between the bud vases that adorn her dinner tables.
Her first book, Second Bloom: Cathy Graham's Art of the Table (a favorite at Maison Carlyle), is the most wonderful entertaining guide filled with brilliant bouquets alongside Graham's own watercolor artwork….a feast for the eyes that is sure to inspire readers to develop their own creations! Full Bloom, a follow-up foray into the designer's creative world, also shows a rainbow of  floral arrangements and decorative creations for the table accompanied by useful sidebars (on everything from painted pots to DIY faux trees). Drawing from her art background, Graham also presents a variety of her collages, which showcase her creative ingenuity and provide helpful information on flower style, species, and arrangement. In addition to her two wonderful books, Cathy has recently launched several collaborations, which include a woodland-inspired collection of hand painted dishes with Christopher Spitzmiller as well as a line of decoupage home accents with Scott Potter. 
We couldn't be more delighted to sit down with our favorite artist and floral designer, whose work has been a constant source of inspiration at MC, to chat about where she turns to for inspiration, what living beautifully means to her, and more! 
Where did you grow up and how has your past shaped your design aesthetic?
Since my parents divorced after I was born, I grew up between Highland Park, Illinois and near the north side of Chicago. My Father was an architect who was passionate about art and collecting and consequently my weekends were spent going to the Art Institute of Chicago, other galleries, and my favorite, clothes shopping at Saks! My Father had great taste.
How would you describe your personal style?
Classic. I love clothes! During the day I basically have a uniform of beige or white pants paired with a white or army green shirt. For speaking engagements, I dress up in pretty dresses by Luisa Beccaria, Erdem, or Gabriela Hearst (always with a fitted waist and midi calf length). I love The Deck London and Savile Row's fitted suits for women.
Who are some of your style icons?
Babe Paley, Katharine Hepburn, and Grace Kelly
Where do you turn to for inspiration?
When I need to be inspired, I go to see beautiful gardens.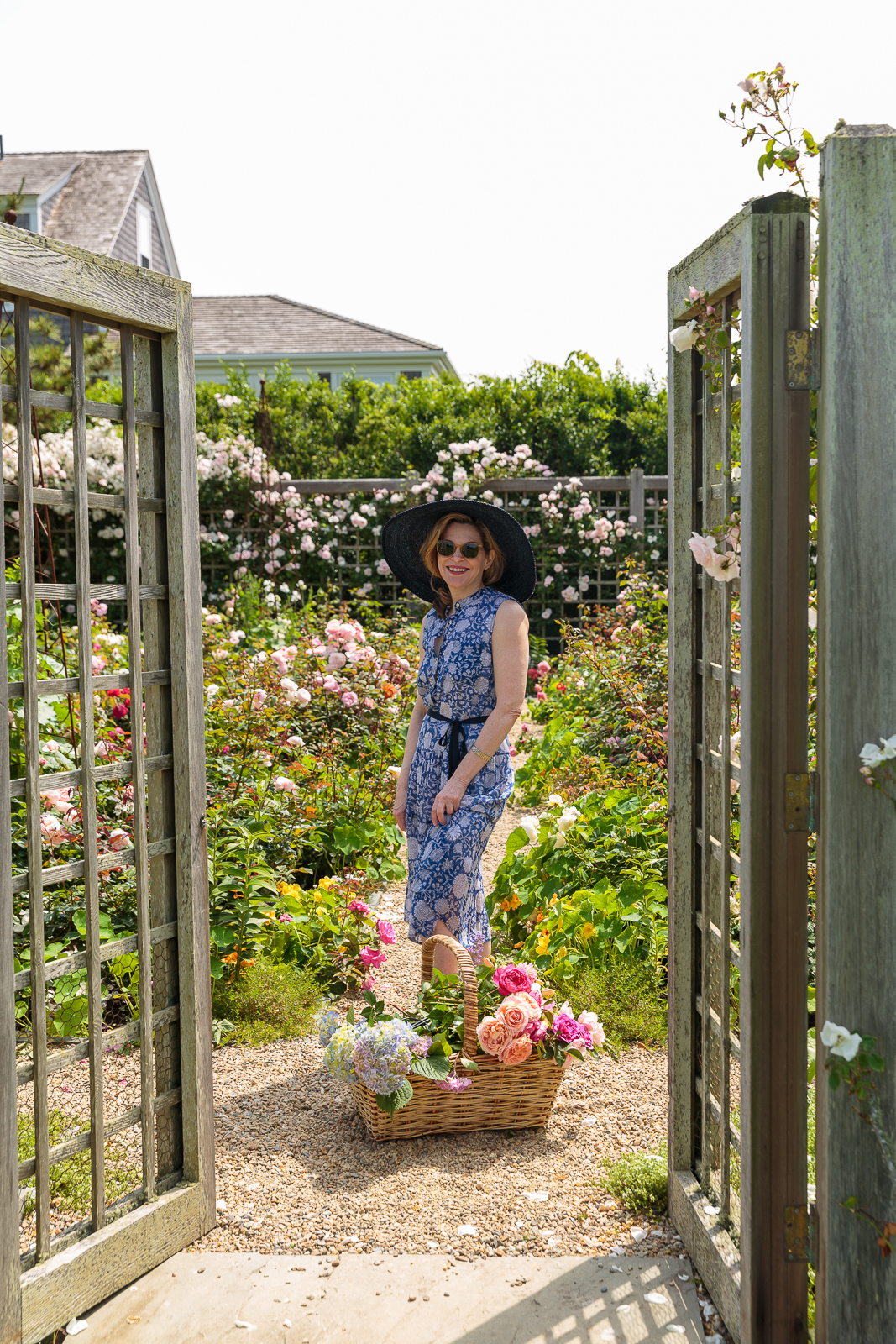 How did you start your company and what do you love most about what you do?
When I started my career, I was so fortunate to have Robert Isabell as my mentor. Working on so many magical events he created gave me the skills and confidence to arrange flowers. Having been a freelance illustrator, I now love painting flowers for plates, textiles, wrapping paper, coasters and garden aprons.
What would your dream project be?
I would love to do a collaboration on a line of products – be it hostesses gifts or a tabletop line.
What are some of your indispensable items when entertaining and how do you ensure a memorable dinner party?
An indispensable item for me is candlelight. When setting my table, I try to add something a little unexpected such as glitter on individual glass vases so they will sparkle with a votive near. I make sure there is not too much space between people, never seat couples together, and always focus on seasonal food, flowers, and herbs.
Which tabletop items do you invest in, and which ones do you save on?
The best investment items are beautiful vases, cachepots, and baskets for flowers. My favorites are by Christopher Spitzmiller, Frances Palmer, Christiane Perrochon, and Venetian glass by Davide Fuin. I have had an octagonal Venetian ribbed vase of his in pale green for years! I also recommend investing in a good set of China, glasses, and silverware that will last and last.
I save on not being a collector except books.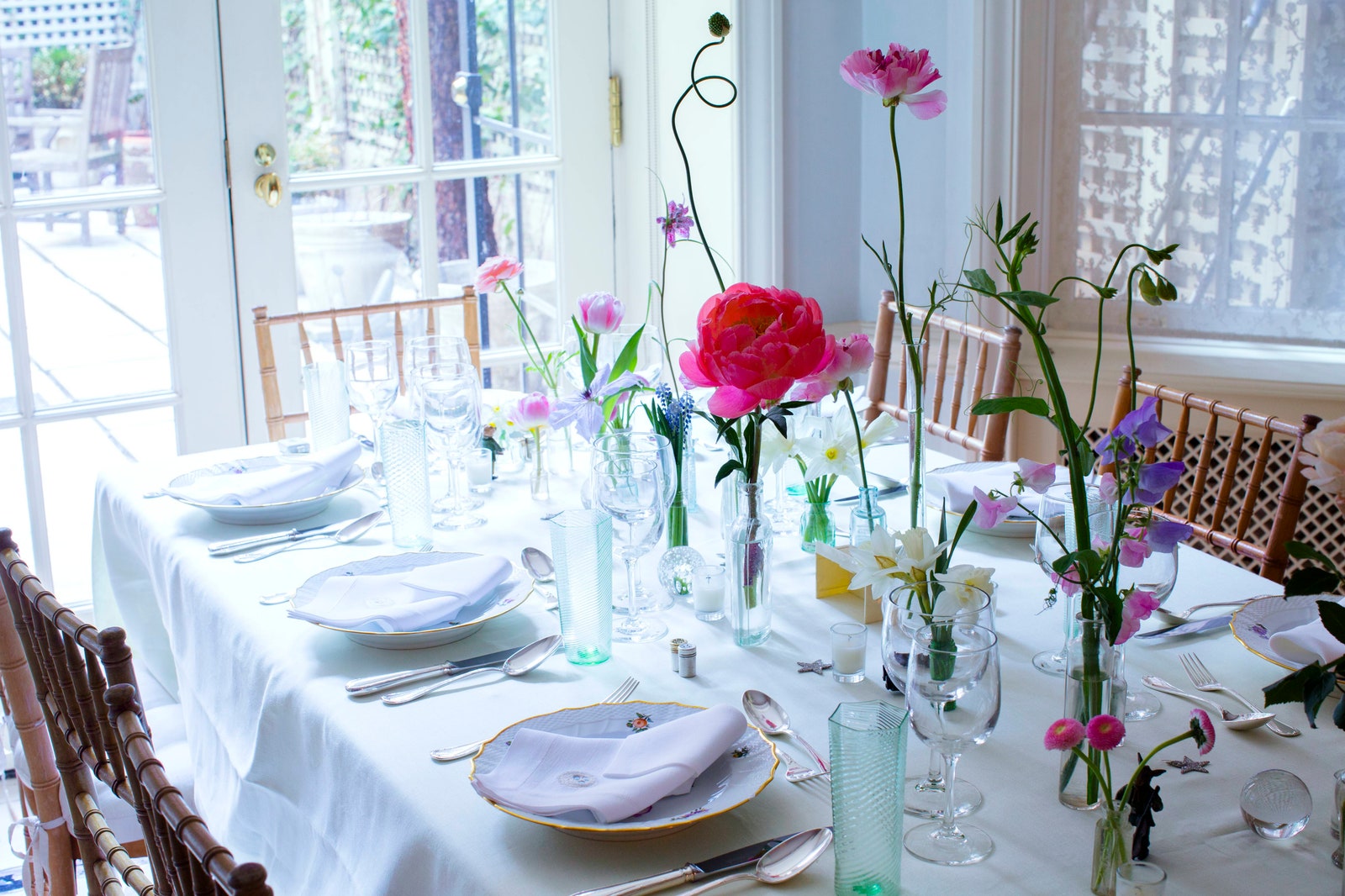 If you could invite any three individuals from the past for dinner, who would they be?
Lady Diana, Cooper Somerset Maugham, and Noël Coward.
Which decorators from the past do you most often turn to for inspiration?
John Fowler, Nancy Lancaster, and Frances Elkins.
If you could hire any decorator and/or architect from the past to design your home, who would it/they be?
David Adler and his sister Frances Elkins.
What does living beautifully mean to you?
Living beautifully means harmonious colors, comfortable furniture, fresh flowers, good sheets, sunshine, and of course ginger cats.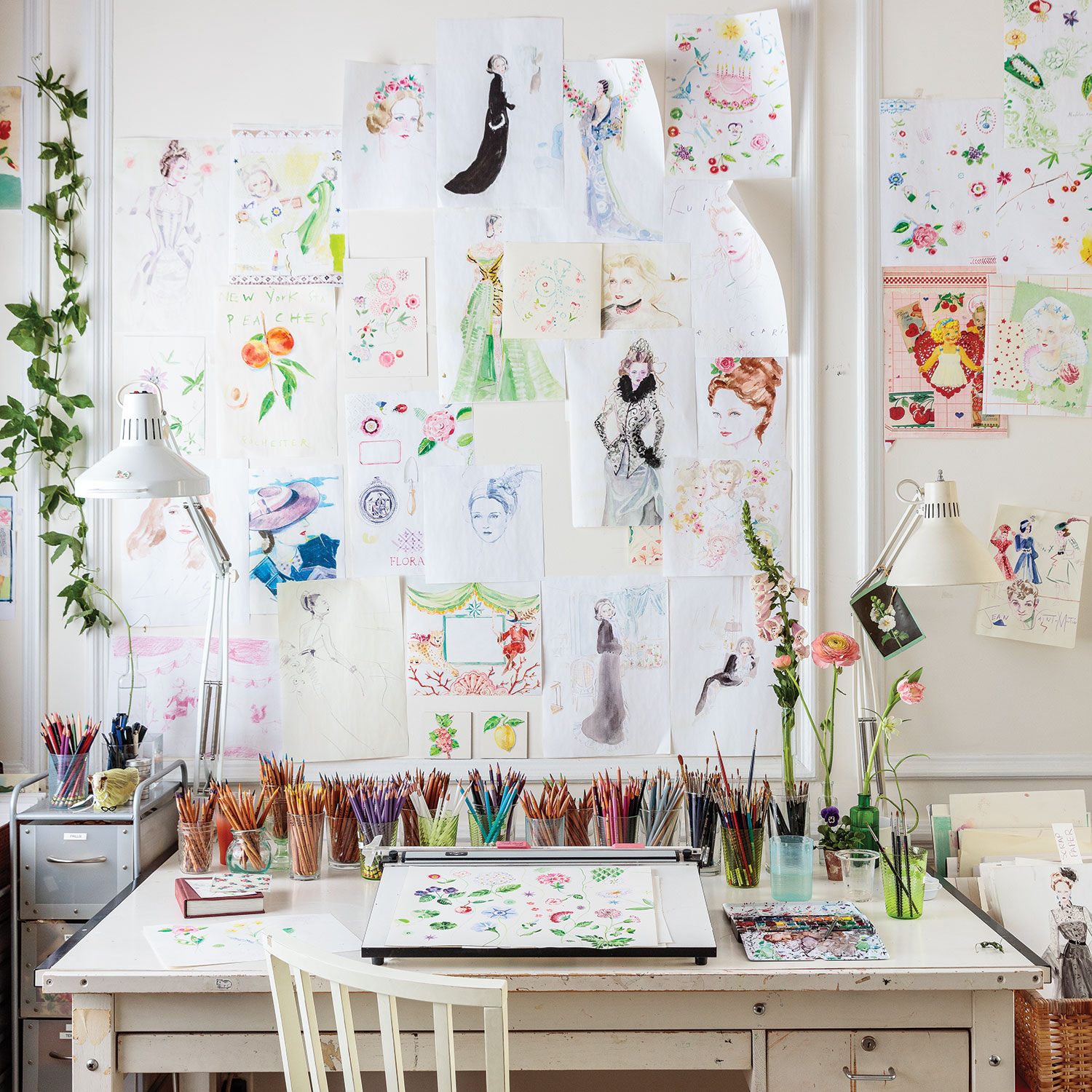 How do you make every day feel special in your home?
I make every day at home feel special simply by being grateful! I have lived in the same house for 34 years and have had the same decor for 26 years by the late brilliant Bill Hodgins.
What is your typical morning routine?
My typical morning includes a cup of coffee in bed with the papers followed by a bath – except for flower market days when I get up early and go to 28th street doing none of the above.
How do you like to unwind after a busy day?
A glass of white wine with ice or a homemade margarita with salt.
What do you love most about living in NEW YORK CITY?
While traveling, are there any objects you enjoy collecting?
I love collecting design books on my travels from Hatchards in London or the Librairie Galignani in Paris. 
What are some of the greatest lessons you learned from your parents?
Loving art and design, and a sense of humor!
Favorite Travel Destination?
Favorite historic house museum?
Favorite interior of all time?
 I fell in love with interiors at the Thorne Miniature Rooms at The Art Institute of Chicago. I also love Evangeline Bruce's house in Washington, DC designed by John Fowler.
Favorite piece of furniture in your home?
A Carlton House desk in my library bought at Sotheby's in London 34 years ago.
Favorite design book(s) you most often turn to for inspiration?
I have so many! I am always looking for inspiration for whatever I am doing at the time.
Favorite movie(s) every design lover should watch at least once?
Grand Budapest Hotel by Wes Anderson
I love to gift thoughtful pieces I find in home décor shops!
Favorite piece of advice from your mother?
When you have a pain in your side, jump up and down to make sure it's not appendicitis!