Lauren Neff helms one of our most favorite Instagram accounts, where her beautifully curated feed reminds us all that beauty and elegance lie in simplicity and ease. As a passion project during the early days of the pandemic, Lauren launched Bonhomie; the perfect creative pursuit to complement her corporate day job in biotechnology, and a place where she could share all that inspires her. Confined indoors and navigating life as a new mother, Lauren searched for ways to bring the beauty from the outside world into her home, and began sharing glimpses of her beautiful table settings. Today, Bonhomie features other areas of interest, such as her darling collection of topiaries, as well as a wonderfully curated assortment of finds around style and home. We are forever inspired by Lauren's gracious style of entertaining, and couldn't be more excited to sit down with our incredibly chic friend and consummate hostess to talk about what Living Beautifully means to her!
Where did you grow up and how has your past shaped your design aesthetic?
I grew up in southeastern Ohio, in a town surrounded by rolling hills and beautiful natural scenery. As a child, I spent every moment I could outdoors with my siblings. We were always exploring the woods or creeks nearby – it was an incredible canvas for creativity, play and imagination. My parents have always loved to garden, and I inherited their appreciation for plants, trees and flowers (I'm hoping I also inherited their green thumbs!). I think all of this has shaped my aesthetic, which is inspired by the beauty of nature.
This love for nature is reflected in the interiors of our home today through the magical work of our designer, Whitney McGregor. She is bringing to life the most serene and joyful space for our family – layered with soft and soothing hues, natural textures, floral patterns and other botanical elements. We just started our garden room project last week, which will undoubtedly be my favorite space in our home!
Where do you turn to for inspiration?
Nature, travel, books, magazines, and gardens. My grandmother is also one of my greatest sources of inspiration. She has an impeccable eye and so many creative passions – from painting to interiors, to gardening. I admire her so much, and love that we share so many common interests. Whenever I visit, she is pulling out her latest estate sale finds (usually a new collection of china) or showing me her newest piece of artwork. These are some of my most treasured moments.
How would you describe your style?
Relaxed, playful and classic with a teeny bit of edge. I let my style evolve naturally and try not to be too rigid. When I'm deciding what to wear, I consider the occasion, the destination, and company, and draw inspiration from there. To me, that's what makes fashion fun.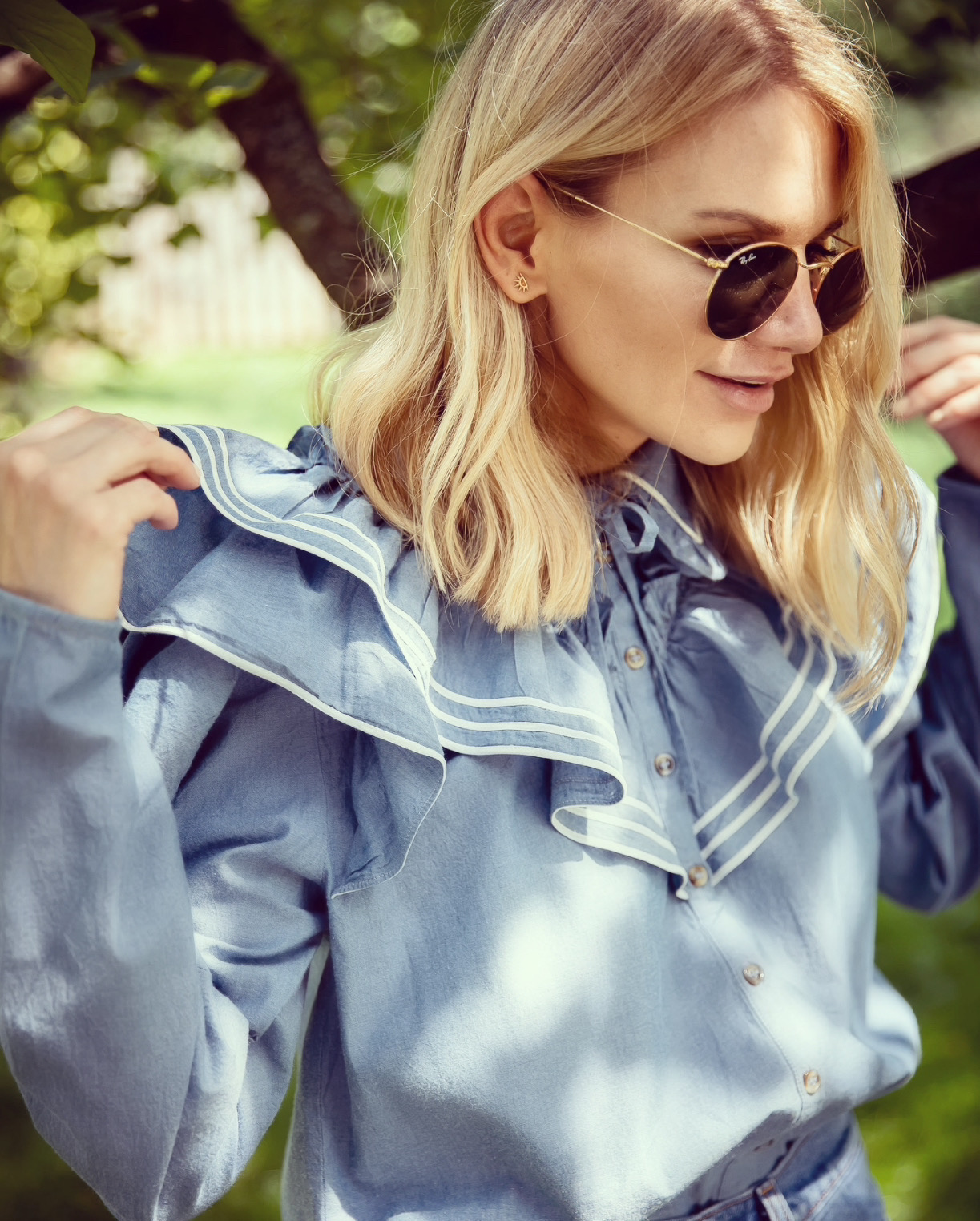 Who are some of your style icons?
Carolyn Bessette Kennedy, Lauren Santo Domingo, Bunny Mellon, Lee Radziwill and Nan Kempner.
What are some of your wardrobe staples?
If I had to choose one outfit for the rest of my life, it would be a white button-down shirt, Levi's blue jeans, ballet flats and a really fantastic coat.
What are some of your indispensable items when entertaining and how do you ensure a memorable dinner party?
Keep the cocktails flowing, good music playing, have a few memorable and unexpected twists up your sleeve and avoid overhead lighting – at absolutely all costs! 
What tabletop items do you invest in, and save on?
I invest in linens, dinnerware and accents that add an extra special touch (like place cards and menus). I save on florals. I often use topiaries or orchids as we already have them in our home – or I pull out my bud vases and clip whatever I find in the yard!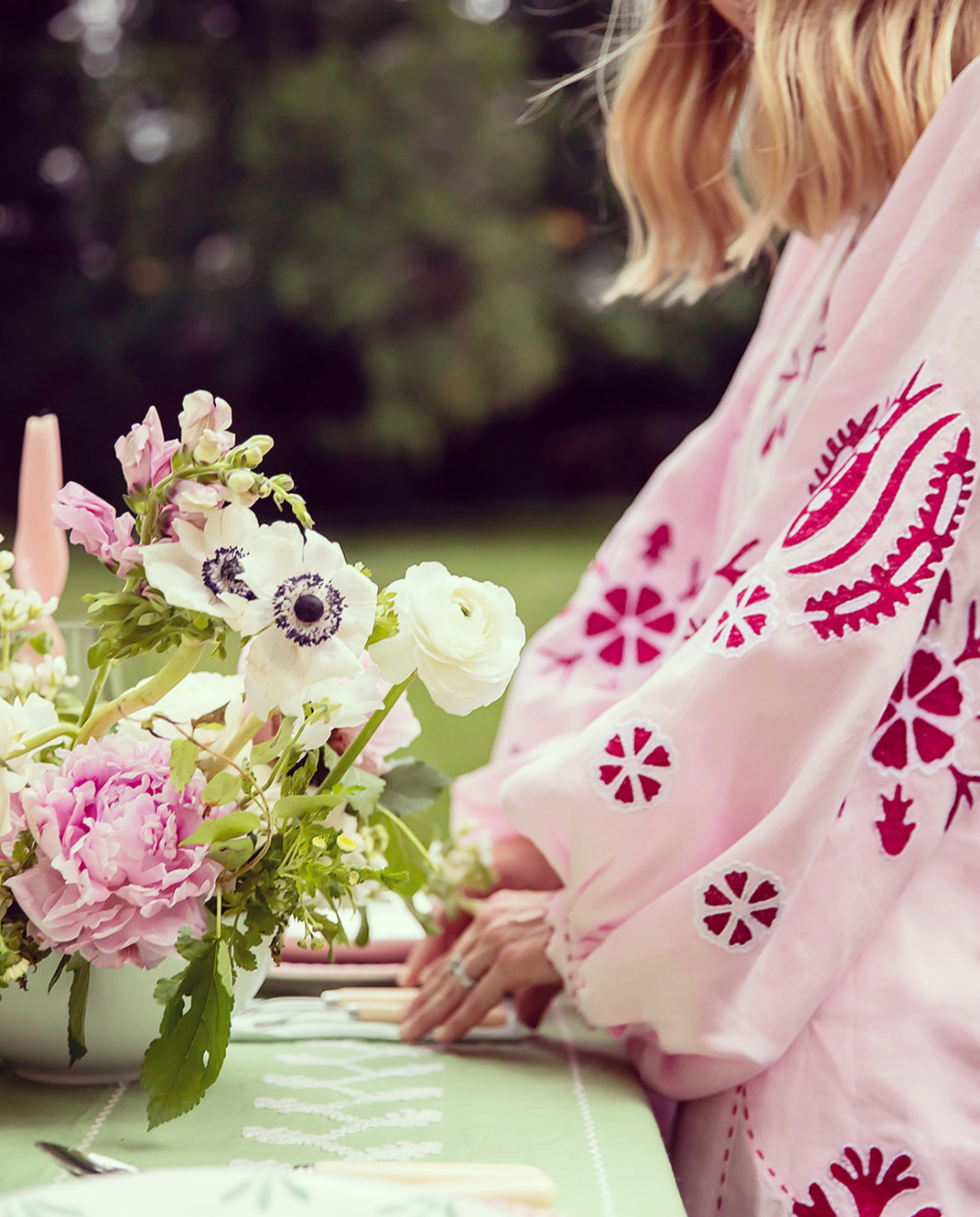 If you could invite any three individuals from the past, who would they be and what would you serve for dinner?
David Bowie, Bunny Mellon and Princess Margaret. As for what I would serve, anything that I didn't have to cook myself. The best host is a stress-free host – and let's face it, I'm no Julia Child! 
If you could hire any designer from the past to decorate your home, who would it be?
Billy Baldwin or Robert Kime.
What does living beautifully mean to you?
Oh, so many things! Cultivating an environment that makes you feel happy, inspired and at peace. Embodying kindness and graciousness. Practicing gratitude for life's everyday moments and appreciating the beauty that surrounds us.
How do you make every day feel special in your home?
Filling our home with fun and laughter (usually in the form of music and dance parties with our two year-old daughter, Mary Jane). Bringing the joy of the outdoors in – I have a collection of wicker baskets and terracotta pots, and I try to keep plants in them year round. Setting the table and using the pretty plates, even if it's carry-out or delivery (which is more often than I'd like to admit!).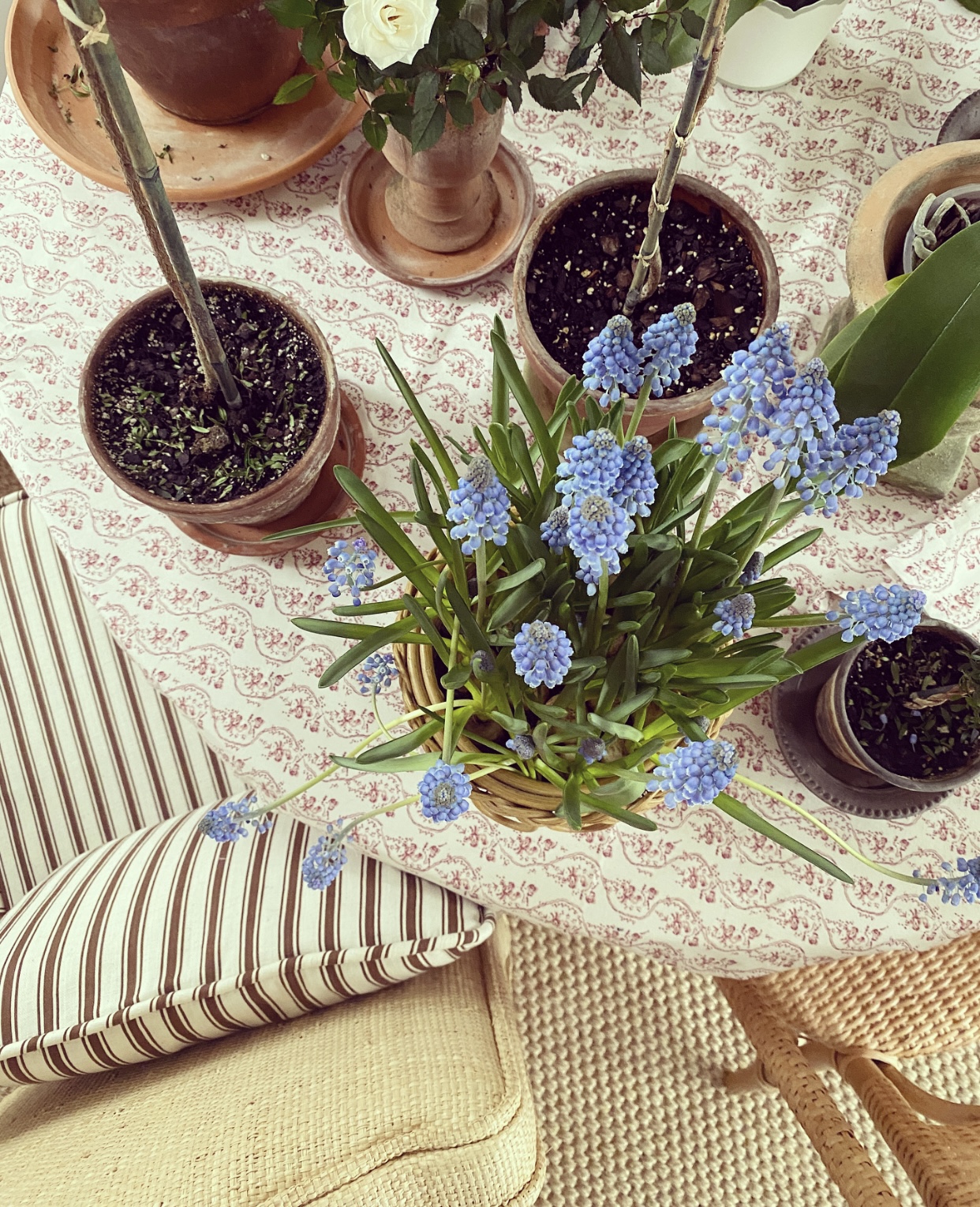 What is your typical morning routine?
I so badly want to be the person that wakes up at 5:00 AM to practice yoga, meditate, and plan my day before the rest of the house starts to stir. The truth is, instead of an alarm clock, I wake up to "mommy, mommy!" coming from the next room over. From there, it's a mad dash to the kitchen to pour myself the tallest mug possible of piping hot coffee. 
I'm grateful that my husband takes our daughter to school, which allows me to take our dog for a long walk (usually to get more coffee). This is my time to be alone with my thoughts and take in the fresh air before the work day begins.
How do you like to unwind after a busy day?
I love the quiet stillness of our home after our little one goes to sleep. I dim the lights (further), light a few candles and relax on the sofa with a magazine and glass of wine – or I roll out the yoga mat with a cup of my favorite Yogi tea. In either scenario, Hu's chocolate is involved! 
While traveling, are there any objects you enjoy collecting?
What is at the top of your bucket list?
I spent most of my early 30's chasing my bucket list. This led to so many incredible adventures – from an African safari to the top of Mt. Kilimanjaro to Buddhist temples in Thailand to jumping off bridges in New Zealand. 
My bucket list is different now – in that, I don't really have one. I just want to slow down and enjoy this precious period in life with my daughter and husband. 
What are some of the greatest lessons you learned from your parents?
My parents have always stressed the importance of extending grace, kindness and compassion to others. They both have an innate ability to make people feel welcome, comfortable and at ease – something I really admire. Growing up, they were big on manners and treating others with respect. They taught us to work hard, and they have always cheered us on as we pursue our passions.
Favorite Travel Destination?
FAVORITE HISTORIC HOUSE MUSEUM?
Favorite interior of all time?
Lee Radziwill's Turville Grange.
Favorite piece of furniture in your home?
Our Swedish pine secretary from my favorite antique shop in Middleburg, Virginia. The piece is over 100 years old and if you look closely, you can still see the original blue paint in the cracks and crevices. I also love our reading chair and ottoman, upholstered in a beautiful floral fabric by Pierre Frey. It's tucked into a peaceful corner of our living room – you sink into the chair and never want to leave! 
Favorite design book(s) you most often turn to for inspiration?
Favorite movie(s) every design lover should watch at least once?
The Holiday – I dream of that English cottage…often!
A unique serving tray filled with goodies – a jar of honey or jam, cheese knives (my favorites are Sabre), cocktail napkins paired with a fun assortment of craft bitters, or a beautifully wrapped bar of soap and candle. I love the trays by Swedish brand Studio Formata (I get them from my favorite shop here in the DC area).
Favorite tabletop brands?
Favorite family tradition?
Family vacations in South Carolina 
Favorite piece of advice from your mother?
Treat others with kindness.