Known for his signature all-American style and love of blue-and-white, Mark D. Sikes is one of the preeminent American designers that truly needs no introduction. As a member of the prestigious AD100 and Elle Decor A-List, Mark's work is frequently featured in leading design publications such as Architectural Digest, Veranda, Elle Decor, House Beautiful, and Frederic Magazine to name a few. He has also authored two design books, Beautiful (2016) and More Beautiful (2020), and has partnered with retail brands, including Hudson Valley Lighting, Schumacher, and Annie Selke, to create signature product lines. Mark's vision has brought him projects throughout the United States, including First Lady Jill Biden's East Wing office, where he is known for creating timeless interiors that embody all-American sensibilities and a fresh take on classical aesthetics. 
We couldn't be more delighted to sit down with Mark and talk about what Living Beautifully means to him, where he turns to for inspiration, the best piece of advice he received from his mother, and more.
Where did you grow up and how has your past shaped your design aesthetic?
I grew up in Illinois and in the South. In the Midwest, I learned how to create a home. In the South, I learned more about decorating, entertaining, gardening, and lifestyle. All of these things have shaped what I love today and our designs.
How would you describe your style?
Classic, All-American, and timeless.
Where do you turn to for inspiration when you begin a new project?
I always turn to books and magazines for inspiration. I have a super extensive collection in my home library and a photographic memory.
You recently celebrated ten beautiful years at Mark D. Sikes Inc. What do you love most about what you do?
Creating homes for people to live in and enjoy. My hope is that the homes reflect who they are.
Which decorators from the past do you most often turn to for inspiration?
I'm inspired by fashion designers who have beautiful homes like Hubert de Givenchy, Oscar de la Renta, and Bill Blass. I'm also inspired by Billy Baldwin, Michael Taylor, Renzo Mongiardino, and Mark Hampton.
If you could hire any designer from the past to decorate your home, who would it be?
Who are some of your style icons?
Bunny Mellon, Jackie Kennedy, Hubert de Givenchy, Oscar de la Renta, Marella Agnelli.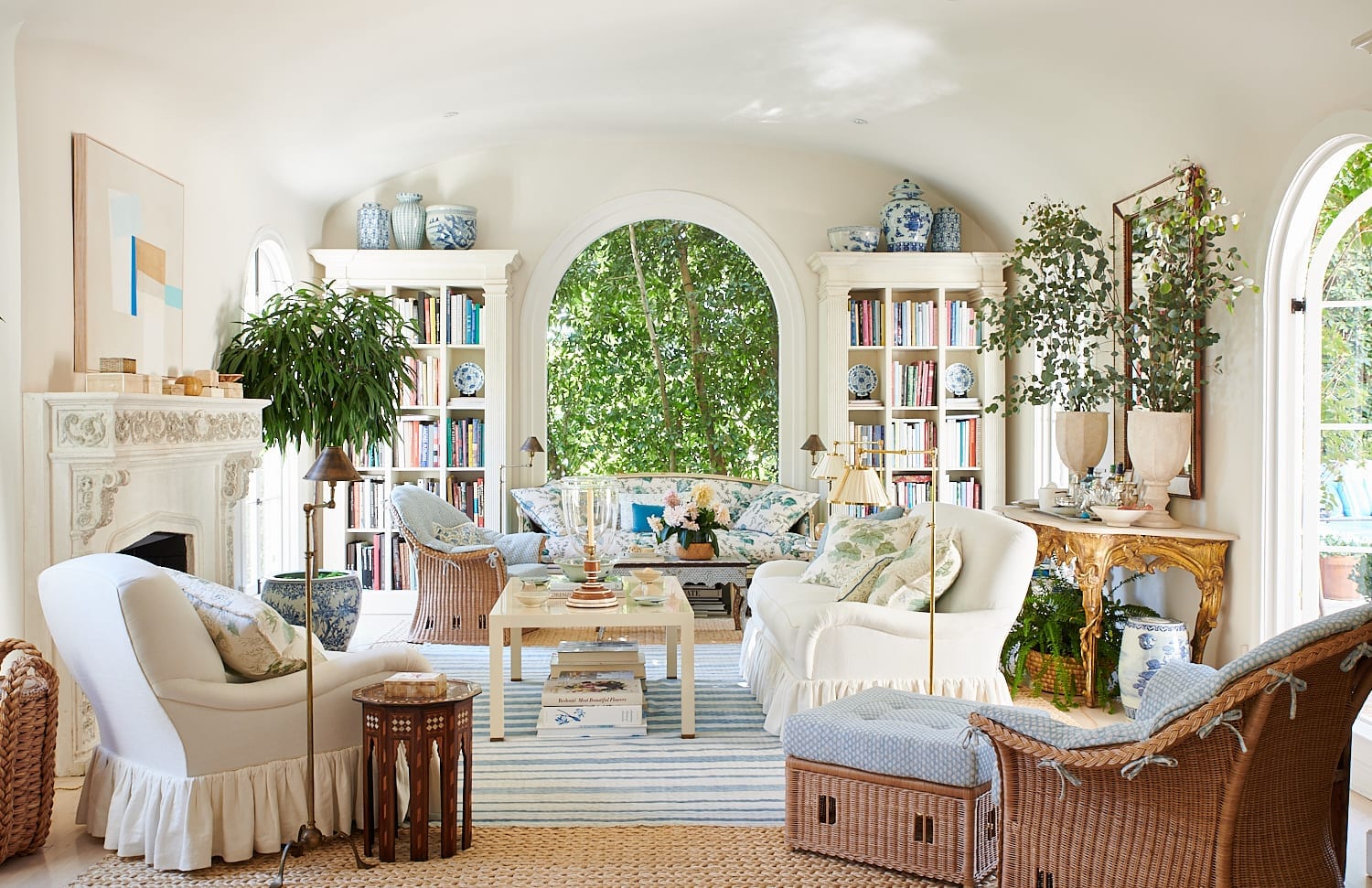 What are some of your indispensable items when entertaining and how do you ensure a memorable dinner party?
Hurricanes, candles, and a good playlist.
If you could invite any three individuals from the past, who would they be and what would you serve for dinner?
Oprah, Jackie Kennedy, and Thomas Jefferson. I love comfort food, so I'd serve potato salad, steak filets, and asparagus.
What are some of the greatest lessons you learned from your parents?
What does living beautifully mean to you?
How do you make every day feel special in your home?
Fresh flowers, a pitcher of iced tea, and having music playing.
What is your typical morning routine?
First, I check my email. Then I head to Starbucks for an iced tea. Then I'll work out on the treadmill, elliptical, or play tennis.
How do you like to unwind after a busy day?
What do you love most about living in California?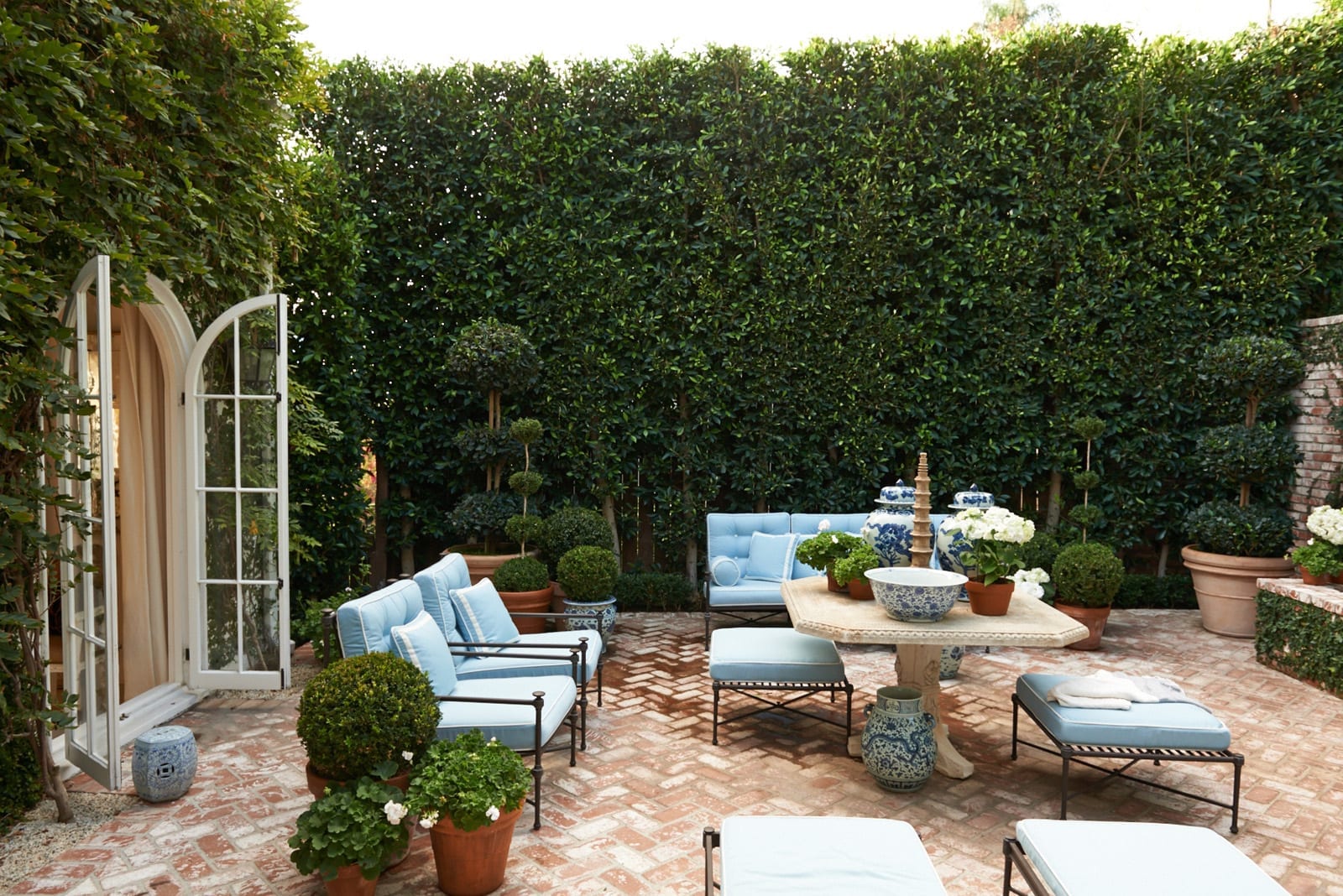 While traveling, are there any objects you enjoy collecting?
I collect coffee table books that represent a place or landmark everywhere I go.
What is at the top of your bucket list?
Morocco, Egypt, Sweden, San Sebastian.
You recently launched a beautiful furniture line with Chaddock. Do you have any favorite pieces from the collection?
I love all of the ladder-back pieces with natural fibers like the Juniper Dining Chair, Ivy Lounge Chair, and Ivy Sofa.
What can we expect to see at your beautiful new home in Ojai?
I'm building a Georgian house that has English sensibilities with California details. There will be stucco, a tiled roof, and lots of gardens and oranges!
Favorite Travel Destination?
Favorite historic house museum?
Favorite places to shop in Los Angeles?
I like Save Khaki and the Brentwood Country Mart.
Favorite restaurant in NYC?
La Majorelle at the Lowell Hotel and JG Melon.
Favorite piece of furniture in your home?
It's the first antique that I bought, an 18th century chinoiserie armoire.
Favorite wallpaper pattern?
Favorite interior of all time?
The living room at La Fiorentina by Billy Baldwin.
Favorite design book(s) you most often turn to for inspiration?
Favorite movie every decor lover should watch at least once?
Favorite family tradition?
Each year, we go to Palm Springs for Christmas.
Favorite piece of advice from your mother?
If you don't have anything nice to say, don't say anything at all.