Ariel Okin is the Founder and Principal Designer of her eponymous firm; Ariel Okin Interiors, a New York based, full-service interior design firm specializing in luxury residential, commercial, and hospitality projects across the United States. Known for her signature style that can be interpreted as; "traditional with a twist", Ariel's portfolio ranges from traditional to contemporary, with a focus on elegant and livable spaces. Texture, pattern, clean lines, and a mix of bespoke and antique items are all hallmarks of her classically-informed aesthetic where no two projects are alike.
Since establishing her firm in 2016, Ariel's work has been featured in leading publications such as Architectural Digest, Elle Decor, House Beautiful, The Wall Street Journal, and New York Magazine, among others. Her particular blend of new and traditional has already earned her collaborations with  The Mural Source, Chasing Paper, as well as notable projects, including Gwyneth Paltrow's Goop headquarters in New York City. Most recently, Ariel was named as a House Beautiful Next Wave Designer in 2022, and a House & Garden Gold List Designer in 2023.
Aside from her design work, Ariel also helms her editorial and e-commerce website; Fenimore Lane (a favorite at Maison Carlyle), and acts as a contributing writer to Vogue.com, Architectural Digest and Domino Magazine.
We couldn't be more delighted to sit down with one of our favorite designers, and talk about what Living Beautifully means to her, where she turns to for inspiration, her upcoming book (!!!), and more!
Where did you grow up and how has your past shaped your design aesthetic?
I grew up in the suburbs of Philadelphia, in an area called the Main Line. The town I grew up in and its surrounding towns were dotted with beautiful old Pennsylvania field stone houses and Tudors, and I think I had an appreciation for architecture at a very young age through osmosis. We had a lot of horse farms, rolling hills, and natural land trusts around us, and I didn't realize it at the time but looking back, growing up around nature really made a huge impact on my appreciation for natural light, indoor/outdoor living, and bringing the natural world into our homes. I also grew up spending a lot of time in Palm Beach since I was a baby – my parents moved there full time when I went to college – so the classic Palm Beach aesthetic and a very strong love and appreciation for antiques was instilled in me at a very young age, shopping on South Dixie with my mom. My mom is an excellent flea market hunter!
How would you describe your style?
Traditional with a twist – my style is very much rooted in the classics, but with a fresh, updated eye and a contemporary spin.
Who are some of your style icons?
Olympia Gayot, Cate Holstein, Elin Kling, Carolyn Bessette-Kennedy.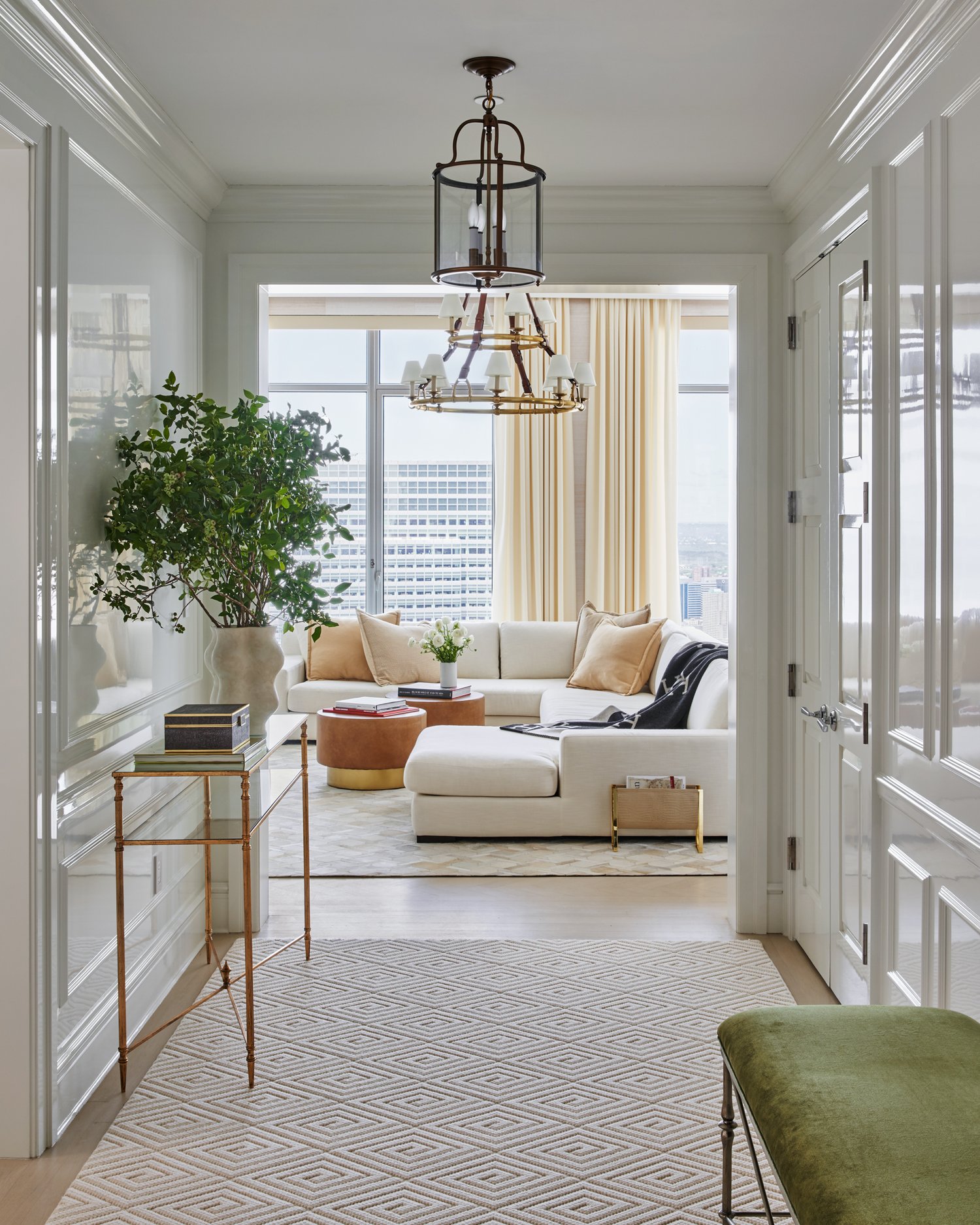 How did you start your company and what do you love most about what you do?
I started designing on the side of my day job in education – I went to graduate school for communications and public affairs, and I was working full time, but friends would ask me to help them with their apartments on the side. I quickly realized I was spending more time working on those projects for free than I was spending on anything else at work! It took me about three years to be able to build up a book of business that was big enough where I could go out on my own and leave my day job, but I'm so grateful that I did – I can't believe I get to do what I do every day and I feel so grateful to be able to design and create the homes that our clients form their memories in every day. One of the most special things that always strikes me is the children we design for will have their childhood memories in the homes we design. I love that my job is so multi-faceted; it's creative, it's editorial, it's logistical – I'm always learning, thinking on my toes, and I really love the entrepreneurial piece of what I do. I think there is no greater gift and simultaneously, responsibility, than to own your own business. It's something I cherish and also take very seriously.
Where do you turn to for inspiration when you begin a new project?
I am a huge collector of both vintage and contemporary interior design books – I also turn to nature often for interesting color palettes I might not have thought of or seen together before. I always ask our clients to come to us with a few inspiration photos and then we build that into a creative brief (essentially a large mood board, for every space in the house) so that we're all on the same page, inspiration-wise, so that we're kicking off the project on the same foot before we start sourcing.
What would your dream project be?
Any project where a client really trusts us, and allows us the creativity and freedom to fully execute our vision. (Also, anywhere by the water!)
Which decorators from the past do you most often turn to for inspiration?
I get so much inspiration from the greats – Billy Baldwin, Frances Elkins, Renzo Mongiardino, Bunny Williams, Stephen Sills, Albert Hadley, Elsie de Wolfe, Sister Parish. There are so many fantastic, iconic, historic designers whose work really needs to be studied and remembered.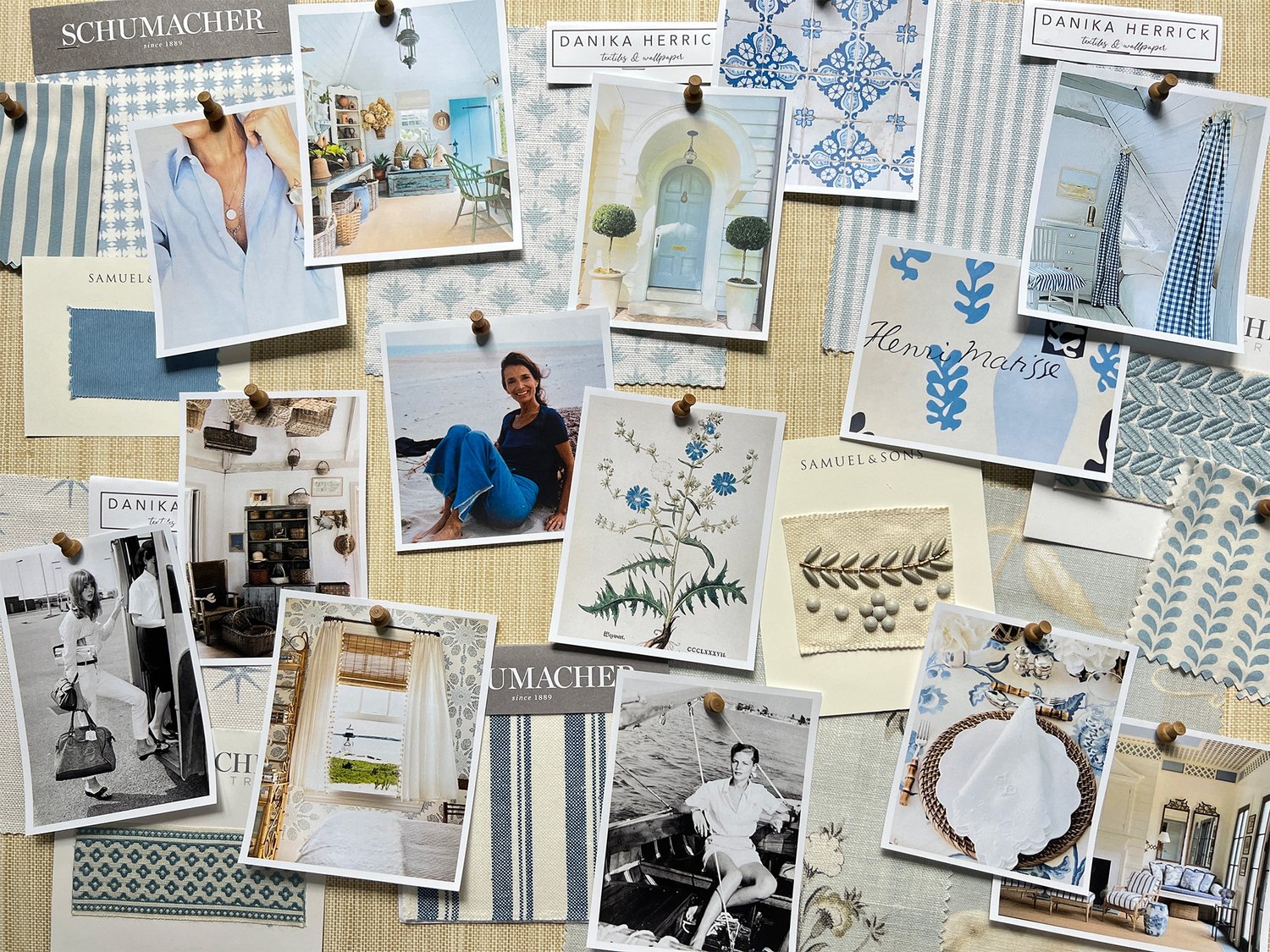 If you could hire any decorator and/or architect from the past to design your home, who would it/they be?
Billy Baldwin. I loved the way he mixed simplicity, elegance and traditionalism and turned it into his own signature look while still maintaining the client's personality as the through-line in the project – something we always aim to do. I also love David Adler's architecture – symmetrical, Palladian, Georgian homes I find to be so classic and timeless. In the Mediterranean style, in terms of architecture, Mizner and Fatio. Terracotta roofs, beautiful arches, coquina stone – there are certain tenents of historical Floridian architecture that really delight me.
What are some of your indispensable items when entertaining and how do you ensure a memorable dinner party?
I am bit of a pack rat when it comes to table linens, glassware, china, flatware, etc. – the more the merrier! I have a full closet in our house just dedicated to all of my crazy entertaining accoutrements. My essentials: a gorgeous (often block-print) tablecloth (I love finding new ones on Etsy) candlelight (whether in glass hurricanes or vintage candlesticks), pretty napkins, delicious food & drinks, great music and good people. 
If you could invite any three individuals from the past, who would they be and what would you serve for dinner?
I love this question! Joan Rivers, Frank Sinatra, Carl Reiner – and a traditional steakhouse dinner.
What does living beautifully mean to you?
I think living beautifully really means living authentically – and with intention. Embracing whatever life stage you're in (little kids and messy toys included) and making it work for you – and not trying to prescribe to anyone else's style but your own, which means buying what you love, collecting, and layering in a way that feels really warm and personal. Living beautifully does not mean living "perfectly".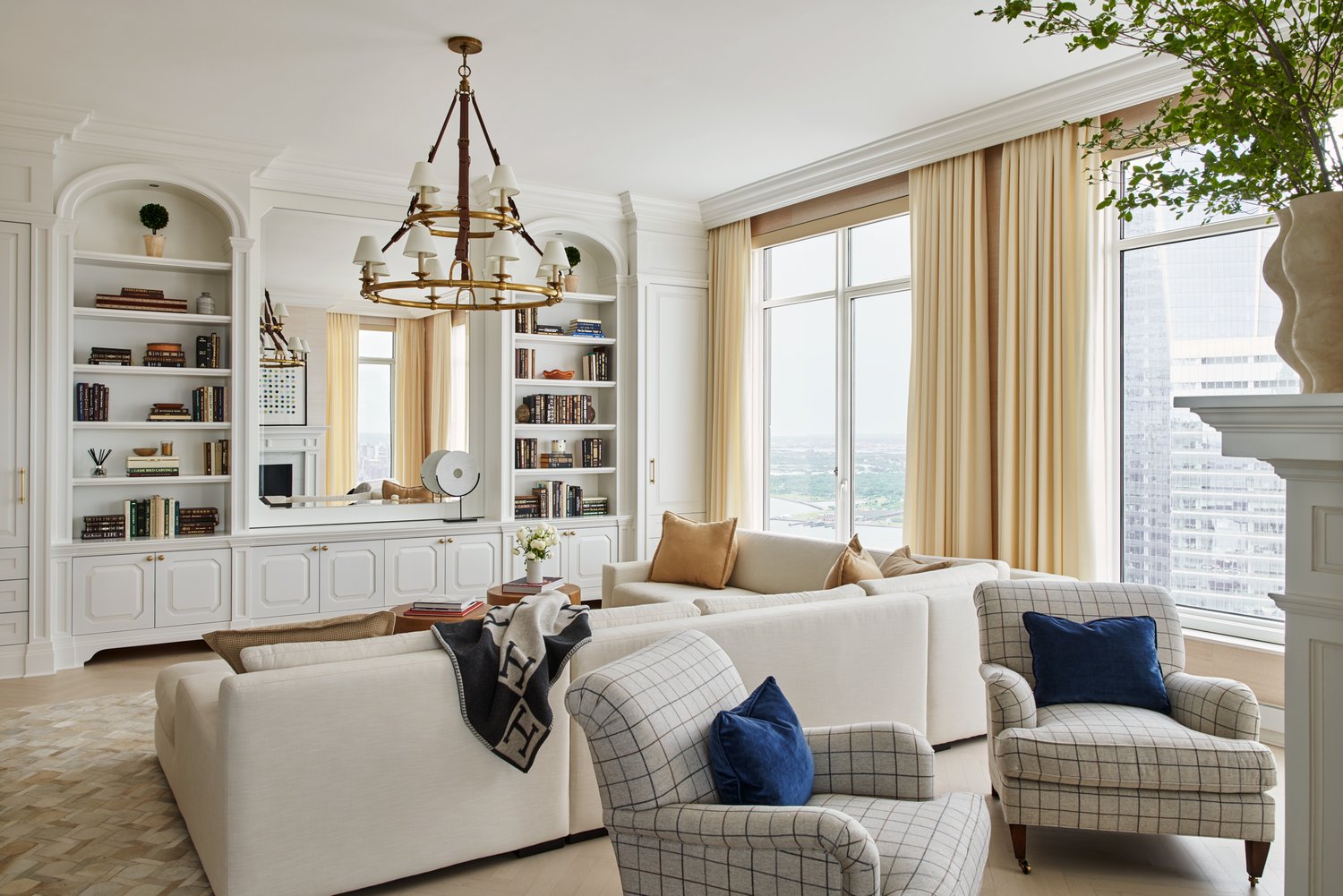 How do you make every day feel special in your home?
My primary focus in my home is making sure my kids feel good each day – so I rarely miss bedtime, because that's my 1:1 time with them to get the daily download, read to them, and decompress a bit. Bedtime is sacred for me and my girls, and that always feels really special.
What is your typical morning routine?
I am decidedly *not* a morning person, but having young kids forces you to be up at the crack of dawn. I typically roll out of bed whenever my kids are awake, help them get downstairs, fed, and dressed/ready for the day, get them to school or camp, and then come back home, meditate for twenty minutes when I can, work out, and then start my day. 
How do you like to unwind after a busy day?
I love to sit with my husband on the sofa and watch something silly and just veg out. I also love to cook – I find it really relaxing – so I love to put on some jazz and make something delicious for my family (and turn off my electronics!)
What do you love most about living in Westchester?
Westchester is such a beautiful, special place – it really reminds me of the suburbs of Philadelphia in a lot of ways. I love that we have different beaches here, and nature preserves – also fantastic restaurants, shopping, and a really collegial, small-town mentality when it comes to community here, which is important and special to me.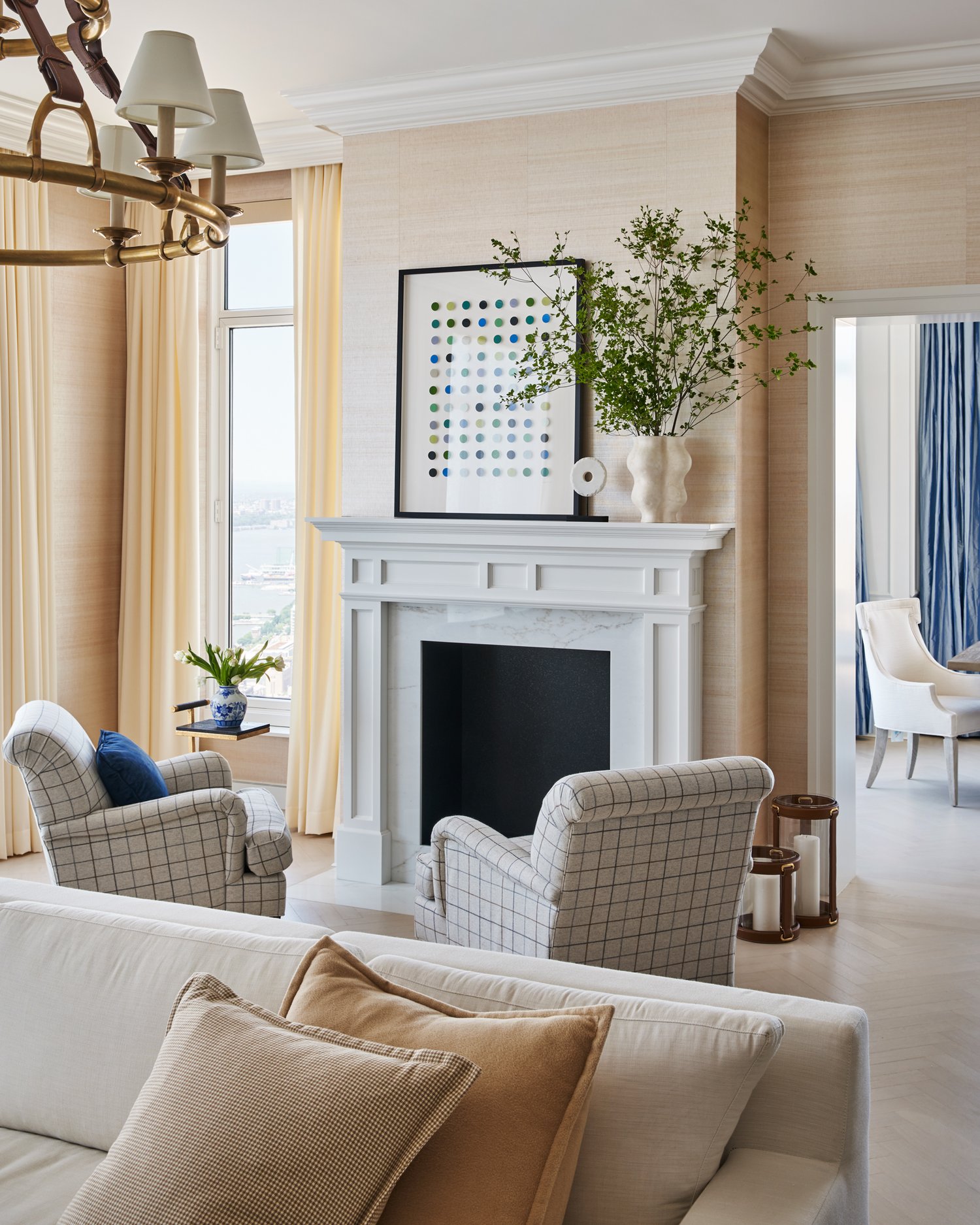 While traveling, are there any objects you enjoy collecting?
I collect anything and everything – if I see something that speaks to me, chances are it's coming home with me (and chances are my husband is telling me we don't need it!).
What is at the top of your bucket list?
I'd really love to travel to Morocco at some point. Tangier is high on my (not anytime soon because I have toddlers) bucket list!
What are some of the greatest lessons you learned from your parents?
My parents are role models for me in so many ways – in an entrepreneurial sense, in a personal sense, in the spirit of how to keep a beautiful home. They really left an incredibly indelible mark on me, and I feel lucky to have them as my parents. Some of my favorite lessons: You can be whatever you want to be. Work hard and be grateful. Don't compete against others – comparison is the thief of joy; compete against yourself and try to be the best you can be every day. Put dimmers on every light in the house. Popcorn is the best evening snack. Not all Arnold Palmers are created equal. The worst someone can say when you put yourself out there is no. Be nice to everyone, always. You're never the smartest person in the room, you can always learn more. Write hand-written thank you notes. Always send flowers. Never kick someone when they're down. Help whoever and whenever you can. Dogs and horses are a good judge of character.
What can we expect to see from Ariel Okin Interiors in the near future?
We have a lot cooking right now! I'm so excited that we are turning our Talk Shop series on Fenimore Lane into a podcast, coming this fall, and I'm also working on a book. We're in the planning stages of a Fenimore Lane in-person summit weekend at a very beautiful hotel in Spring 2024…more on that soon! And we have more product lines to come in 2024, as well as working on six houses all over the Northeast right now, which is really thrilling.
Favorite Travel Destination?
Palm Beach – I have so many happy childhood memories there, and now when we bring our girls there every winter it's even more special. 
Favorite historic house museum?
Rosecliff, in Newport, RI – my husband and I were married there!
Favorite interior of all time?
That is such a tough question – the house I grew up in, designed by Judy Kling, I think is my favorite interior of all time. Judy is an incredibly talented designer whose work really inspires me on a daily basis. Rory Cameron's villa, La Fiorentina, designed by Billy Baldwin, is also iconic to me. Hubert de Givenchy's Château du Jonchet, too.
The Anglo-Indian British Colonial era, and the tailored yet still laid-back, wicker fueled ease of the 1960's.
Favorite wallpaper pattern?
Favorite design book(s) you most often turn to for inspiration?
Favorite movie(s) every design lover should watch at least once?
Any Nancy Meyers movie – ever. Sabrina, Pride & Prejudice, Emma (the most recent one), Auntie Mame, Marie Antoinette, The Graduate, Home Again, Midnight in Paris, You've Got Mail and any Nora Ephron movie, The Royal Tenenbaums, The Grand Budapest Hotel…so many.
Laundry – I really, really love the smell of clean laundry!
Favorite family tradition?
We go down to Palm Beach every year around Christmas time – I did as a kid with my parents since I was a baby, and now we bring my girls, and it really is such a magical, special moment where time suspends, and we just make incredible family memories together. The scent of pine needles always immediately brings me mentally to Florida, which is pretty funny.
Favorite piece of advice from your mother?
I have a running list of advice from my mother on my phone. Every time she tells me something poignant, which is often, I write it down. My mom is an absolute force –I am so in awe of her every day. I'm so grateful she's mine. We're best friends, and she has phenomenal taste and the most positive outlook on life of anyone I have ever known. She's always taught me that nothing is impossible, anything you can dream of is within reach, and to dream big. She's also taught me that nothing in the world is more important than family, patience is a virtue (especially with kids!) that work can wait, and to slow down and enjoy every single day because life is beautiful!