Shelley Johnstone is the owner of her eponymous design firm, with a studio and showroom in the Chicago suburb of Lake Forest, Illinois. Trained at London's Inchbald School of Design, Shelley has been nationally recognized for her signature aesthetic; elegant European-influenced interiors, with a fresh modern twist. Her work has been featured in House Beautiful, Traditional Home, The New York Times, Frederic Magazine, and has also been named to the Luxe "Gold" List multiple times. She is the co-author of one of our favorite books, A Loving Table, and recently designed the most magical garden view study and bath at this year's Kips Bay Decorator Showhouse in Dallas. We sat down with the talented designer to talk about what Living Beautifully means to her, her indispensable items when entertaining, which decorators from the past she most often turns to for inspiration, and more.
What did you study in school and what inspired you to pursue a career in interior design?
I studied communications and art history in college then was fortunate to attend The Inchbald School of Design while living in London. I realized after attending that I loved interior design and wanted to pursue a career in the field.
How would you describe your design style and personal aesthetic?
I like to create beautiful timeless spaces to be lived in and enjoyed. My own aesthetic is similar, I love beautiful timeless pieces, curated and edited…never fussy.
Where do you turn to for inspiration when you begin a new project?
Travel always is an inspiration, books, art and Instagram. I also am inspired by the project itself…. location and the clients. My clients usually have fabulous taste and great wish lists.
Which decorators from the past do you most often turn to for inspiration?
I love Frances Elkins and David Adler, a sister/brother duo that designed and decorated some of the most beautiful homes, most of them in Lake Forest, Illinois; my hometown. They collaborated with Jean Michel Frank and Giacometti on furniture and lighting, creating spaces that still look and feel flawless today!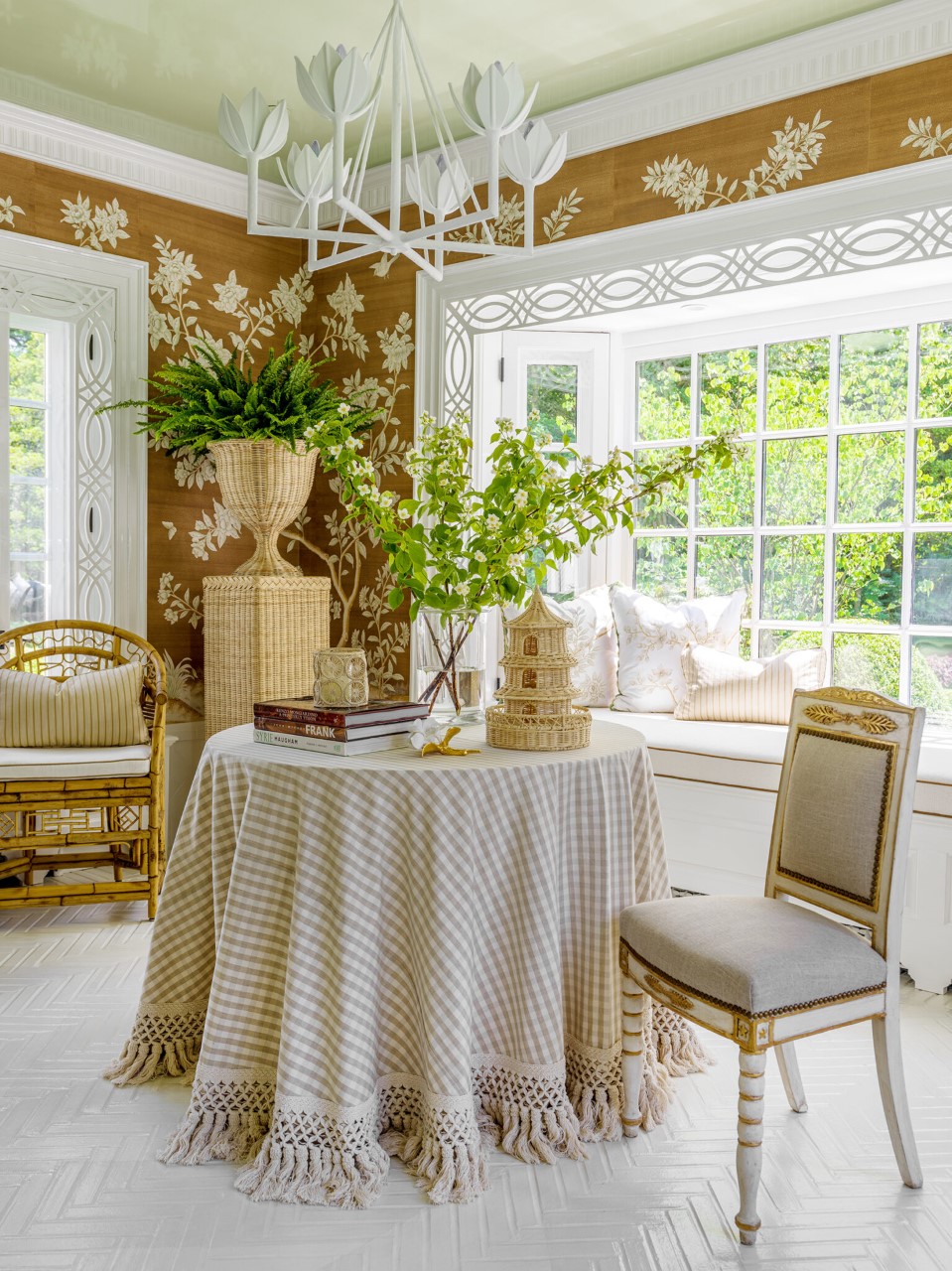 Your parents seem to be creatives with impeccable style. What are some of the biggest lessons you learned from them?
I learned that you could take your creative interests and passions and make them into a successful business. I also learned that you need to work really hard and wear a lot of hats. Be true to the business you want and stick to it…I want to work directly with my clients and keep my firm small, I don't want to change the format and manage a lot of employees. I have learned to say no to projects and really be selective, and keep Shelley Johnstone Design a small boutique interior design firm.
You recently published a beautiful book on family traditions and entertaining. What do you love most about entertaining?
It is a wonderful opportunity to create memories and show people that you care about them. Having family and friends around A Loving Table is an incredible gift.
What are some of your indispensable items when setting a table?
Beautiful and interesting china, glassware and linens layered together with fresh florals, bowls of fruit and objet d'art.
What tabletop items do you invest in, and save on?
I have a range with all of it. I adore mixing fine china with raffia wrapped glasses and bamboo flatware. Always layered and never too serious or precious. I will use fine linen monogrammed napkins with simple blocked print tablecloths. I love the mix and if I like something I will mix it in and enjoy.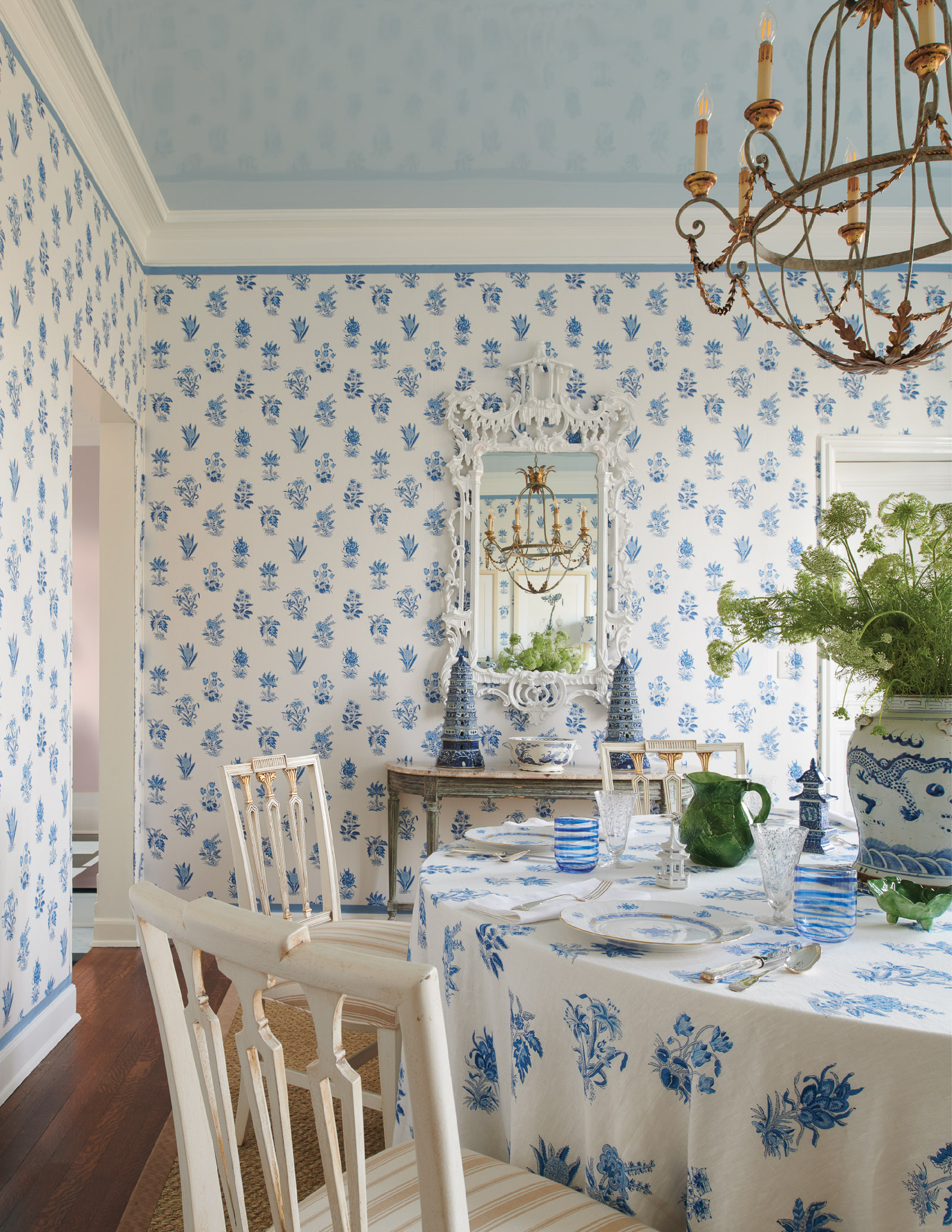 If you could set "a loving table" for three individuals from the past, who would they be?
Frances Elkins to talk all things design, Gary Grant, kind of no need for explanation and Fred Astaire for great Hollywood stories and entertaining us with his famous dance scenes.
What does living beautifully mean to you?
Creating special memories with my family and extended family and friends.
How do you make every day feel special in your home?
Creating a home we all love…fresh flowers, candles and great music.
What is your typical morning routine?
I have a new puppy, so my mornings have gotten early and all about Baker. I grab a glass of fresh green juice and we head out to the yard to walk around the garden and enjoy our early morning quiet time.
How do you like to unwind after a busy day?
When the weather is nice, I love to go for a swim after work or play a quick nine holes of golf. When the days get shorter and the weather cooler, I love to relax and watch a movie or TV with my husband. We have just become empty nesters, our youngest of five just off to college.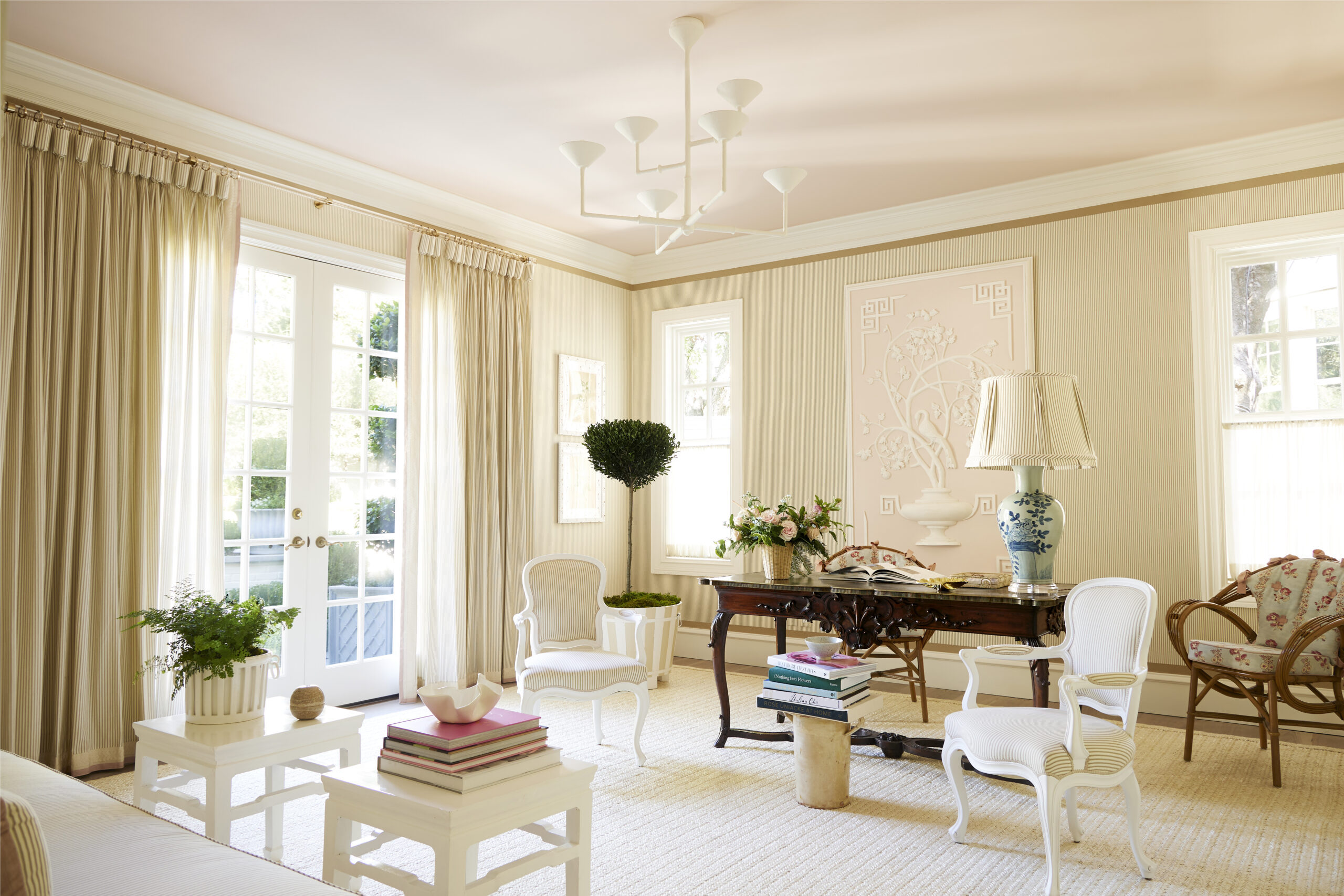 What is your greatest extravagance?
Who are some of your style icons?
Jackie Kennedy, Valentino, Hubert de Givenchy.
While traveling, are there any objects you enjoy collecting?
Object d'art for the table. They add interest, fun stories and memories around them.
What has been the best piece of career advice you received?
Stay authentic and true to the values and lane you created for your business. I adore design and working with lovely clients on special projects. I don't want to manage a large team and change the scale of the business.
Favorite Travel Destination?
Favorite historic house museum?
Favorite shop(s) in London?
Penny Morrison, Soane Britain, Robert Kime, Sibyl Colefax & John Fowler, Nicholas Haslam, Matilda Goad, Nina Campbell, The Conran Shop, Pentreath & Hall, Jamb
Favorite design book(s) you most often turn to for inspiration?
Frances Elkins and Billy Baldwin
Favorite piece of furniture in your home?
Pair of French bergère chairs I purchased in London with Christmas money from my Dad
Favorite wallpaper pattern?
Anything handprinted from Gracie
Favorite family tradition?
Wonderful meals around our Loving Table, especially under an alleé of trees with lights strung from the trees. Pool lit, music playing and conversation going on with our entire crew into the late evening.
I have been wearing the same scent for 18 years, my husband buys me every year for Christmas and my children love and know it is mom, I'll keep it special and mine.
My Shelley Johnstone Design signature candle.
My Shelley Johnstone Design signature candle, A Loving Table or a beautiful vase from Aerin, we carry in my showroom.
Favorite tabletop brands?
Favorite movie every decor lover should watch at least once?
Mr. Blandings Builds His Dream House, High Society and any of Nancy Meyers aesthetically pleasing films.